Diamonds in the Rough | 2015 Fall Out Here Magazine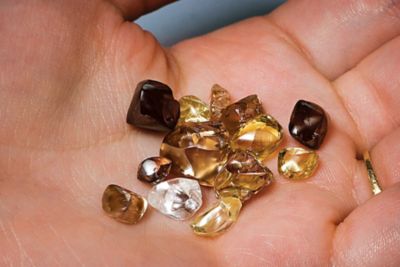 Hunt for precious stones at Arkansas' most unique state park
By Noble Sprayberry
Photography courtesy of Arkansas State Parks
At a state park in Arkansas, diamonds and other precious stones are hidden in plowed ground, just waiting to be found.
Crater of Diamonds State Park in Murfreesboro, Ark., (CraterofDiamondsStatePark.com) is part of an ancient volcanic crater, where time and erosion have brought precious stones to the surface.
Now, park visitors hunt a plowed 37½-acre field, armed with eagle eyes, shovels, and boxed screens to sift out soil. If they're diligent — and very lucky — they'll spot a precious stone to take home.
Doesn't matter if it's small, as most are; it's always exciting when a visitor hits pay dirt.
"A diamond is a diamond," says Waymon Cox, park interpreter. "No matter the size, it's a good souvenir."
That's not to say that all diamond discoveries are insignificant. In 1990, Shirley Strawn, of Murfreesboro, found a diamond weighing slightly more than 3 carats. Once it was cut into its final jewelry-quality form, the diamond was deemed to be perfect.
The gem is on display at Crater of Diamonds. Donations from individuals and businesses allowed the state to pay $34,700 for the diamond and bring it back home to the park for visitors to see.
Most often, though, white, brown, and yellow diamonds discovered by lucky visitors are about the dimensions of a match head, Cox says.
Other semi-precious stones, including jasper, banded agate, and hematite, often called black diamond, are found on the property.
"People will not leave disappointed," Cox says, "and they will find something that's pretty, even if it's not a diamond."
The area's first diamond was found in 1906 by farmer John Wesley Huddleston. Geologists had expected, but never verified, the presence of the precious stones.
For decades, investors attempted to turn the land into a profitable diamond mine, but disagreements and bad management — suspected to have led to rampant theft — blocked each effort.
Finally, in 1972 the land became a state park.
"As far as we know, this is the world's only public diamond mine," Cox says.
Three diamond-hunting strategies are common at the park: surface search, dry sifting, and wet sifting.
Most large diamonds are found on the surface, often turned up after rain. A surface search is the most time-efficient approach for travelers with limited time, Cox says.
Other strategies, though, might result in more reliable results.
Another option is dry sifting, or using a mesh screen to filter dirt from gravel and, hopefully, precious stones.
However, nearly three-quarters of diamonds are found through "wet sifting," which can require at least two hours, Cox says. Using screens, washing stations and lessons from park staff, visitors learn to use water to better separate diamonds from dirt and gravel.
Diamond searchers often have the same basic question: How can you identify a diamond?
"It's unlike anything else you're going to see out here," Cox says. "Diamonds are very clean, shiny, and smooth crystals. That's something that stands out and surprises lot of people."
Once someone finds a diamond or other stone, they may keep it — no matter the size. Every discovery is also verified and cataloged.
Park staff members will not estimate a stone's value, which often depends on how it is cut into its final form by a professional. And the park does not report the finds to the Internal Revenue Service, which is another common question, Cox says.
The mine shows no indication of running out of diamonds. Earlier this year, in April, Susie Clark, of Evening Shade, Ark., found a white teardrop-shaped 3.69 carat diamond the size of a pinto bean. And in June, Bobbie Oskarson of Longmont, Colo., found an icicle-shaped 8.52-carat white diamond, the fourth-largest gem found at Crater of Diamonds.
Noble Sprayberry is a Georgia writer.