Counting Sheep and Blessings | Fall 2015 Out Here Magazine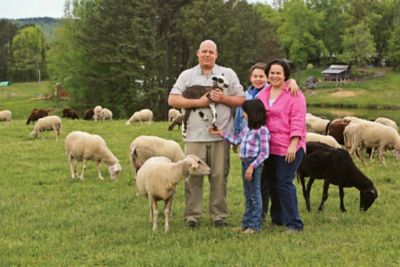 Greg and Ana Kelly, along with children Everett and Sofia, operate Dayspring Dairy, Alabama's only sheep dairy.
Alabama's only sheep dairy is a family affair
By Nancy Dorman-Hickson
Photography by Meg McKinney
"Hear that?" Greg Kelly asks as he walks to the back field where his ewes graze. Crunching hickory shells underfoot is the only sound breaking the stillness.
Exactly," the farmer says, smiling at the peaceful life he, wife Ana, and their children, Everett, 12, and Sofia, 8, have created in Gallant, Ala.
Their Dayspring Dairy is the only sheep dairy in the state. The farm's name illustrates what's important to them.
"'Dayspring' is a word for Jesus," Ana explains, referring to the term from Luke 1: 78-79. "It's about bringing light into darkness. We knew when we came here that our lives would be changed."
Greg adds, "We were willing to step out on faith."
Set against a backdrop of Chandler Mountain and rolling green pastures, a picturesque pond reflects their flock of wooly sheep. A fancy fowl coop, called the "chicken palace," houses a brood of Rhode Island Reds, Barred Plymouth Rock, and Araucanas.
Two white Great Pyrenees, given cheese-inspired names — Brie and Camembert — guard fowl and flock alike while their penned canine brother, Pec, an Italian Pecorino, is "jailed" until he learns to play less forcibly with the sheep. A trio of cats rounds out the menagerie.