Students scamper into Munford Elementary School each morning beneath a ceiling of stalactites, past rock-like walls. Their innocent laughter mingles with the sound of trickling water as they make their way down a pebbled path to their classrooms.
It's been called one of the most innovative schools in America. Every nook and cranny pays tribute to the Talladega National Forest that sits practically at its back door, from the faux longleaf pines along the walls to a 250-gallon aquarium containing native fish.
Cafeteria walls serve as murals for lush scenes of the nearby national forest, allowing the children "to have the illusion of having a picnic at lunch," principal Brooke Morgan says.
Munford Elementary and its unique emphasis on environmental themes originated in 2000 when a tax referendum to build two new schools in the area led to some creative thinking.
"We chose to do theme immersion with environmental education," Morgan says. "The other school chose to do a theme revolving around the (Talladega) Super Speedway because it was really close to the racetrack."
Such originality has been recognized; sprinkled throughout the school are awards ranging from Scholastic's Coolest School designation to Parents magazine's recognition of the school as one of the Top 10 Most Innovative Elementary Schools in America.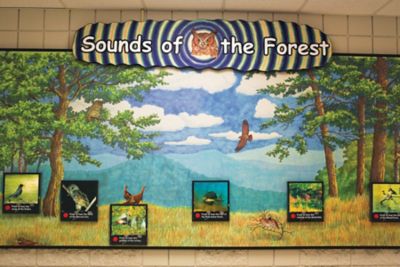 Where Learning Is Fun
The school's environmental theme involves much more than just décor. Its 12 museum-quality interactive exhibits, placed among the school's three wings, fosters enjoyable learning about flora and fauna in the nearby forest.
Pre-kindergarten through first grade enter their classrooms through an entrance labeled "The Enchanted Forest." Down this wing, exhibits emphasize how to distinguish types of leaves and tree bark, as well as the importance of recycling and the variety of products that can be made from wood.
The "Where the Wild Things Are" hallway for second- and third-graders features animal tracks and a board with buttons that plays indigenous animal sounds.
"They are asked not to press the buttons constantly," Morgan says with a laugh. "They especially love the owl."
But the displays are more than just fun. They contain complex subjects such as photosynthesis and how to discern differences among the tree barks of a hickory, pine, dogwood, maple, red oak, cedar, and sweet gum.
One exhibit features a tree slice from a 300-year longleaf pine. The ringed slice sports descriptive tags at various points along its lifeline, ranging from "1706-Ben Franklin Born" to "2000-Munford Elementary Built."
"The Main Stream" wing for fourth and fifth grades includes details about soil samples, fire safety in the woods, and water issues.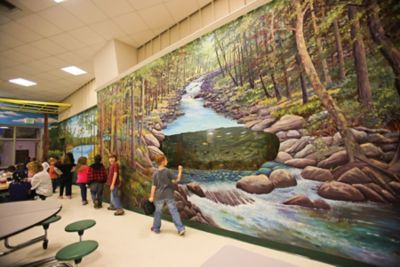 Encouraging Good Stewardship
Munford Elementary enjoys a close partnership with the U.S. Forest Service, which has helped finance the school's science resource teacher, Kim Murray, who focuses on outdoor learning in the school's greenhouse, butterfly garden, plant boxes, pond, and along a nature trail.
The Forest Service also participates, not only with unique demonstrations such as a prescribed environmental burn, but also to connect the 775 students to the natural world, and in particular, their little corner of it.
"We did one on the endangered red cockaded woodpecker and its reliance on the longleaf pine for habitat," Morgan says. More longleaf pines were planted on campus as a result.
The school and Forest Service also collaborate on a Get Outdoors Day community event featuring vendors, a band, and such activities as archery and wood making.
The Forest Service personnel "are great partners," Morgan says. Indeed, students learn more about future job options in a school display labeled "Careers in Natural Resources," which describes the various options within the forest industry and service.
But, ultimately, Munford Elementary isn't trying to graduate a student population of foresters. The school's goal is more big picture than that.
"We want our students to understand that we have to take care of our environment and take care of nature and to understand the importance of recycling, (and) water quality," Morgan says. "It's important in this day and age that we are all very good stewards of our environment."
Nancy Dorman-Hickson is a Birmingham, Ala., writer.