From piles of fluffy wool, Megan Nedds sculpts foxes, songbirds, and a herd of barnyard animals that look real enough to bleat and bray.
"One woman saw their pictures and thought I did taxidermy," Megan, 20, says about the creatures she brings to life through the art of needle felting.
Wool has been compressed into felt fabric since ancient times using soap and water, but contemporary dry felting uses sharp, barbed needles and a repetitive jabbing motion to tangle the fibers.
"When you poke the wool and stab it, it compacts and the little barbs take the hairs and interlock them together," Megan says. The more the wool is poked, the tighter the fibers tangle until it can be sculpted like clay.
Megan stumbled upon the art form two years ago. She had a favorite stuffed cat as a child and was searching online for similar sewing patterns when some charming needle-felted critters caught her fancy.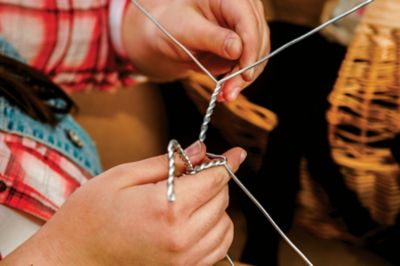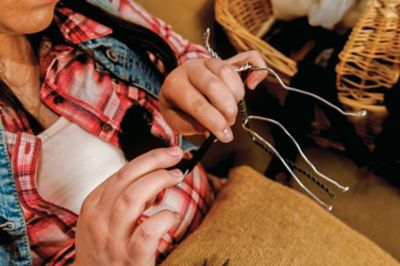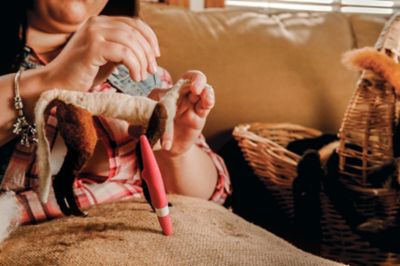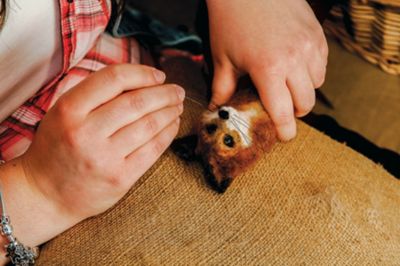 "I didn't know what they were, but I knew they weren't sewn because they didn't have any seams," she says. "I was determined to learn how to do this, so I ordered some basic supplies online and watched a few videos."
With tufts of undyed wool, she painstakingly — literally, after misplaced needle jabs — created a 2-inch-tall furry rabbit. By the time she'd finished Barnaby, as she dubbed the bunny, Megan was hooked on needle felting. It combines her love of animals and art.
Today, when she isn't hitting the books at the University of Findlay in Findlay, Ohio, where she's majoring in graphic art and children's book illustration, Megan is hitting the fibers with her felting needles. She sells her animal sculptures at her online shop, The Woolen Wagon, on Facebook and Etsy, an online marketplace for crafters, artists, and others to sell handmade creations or vintage goods.
Her artistic flair and loving attention to detail make the wooly wonders stand out from the pack and she has a following of devoted collectors.
Susan Bentley, of Sacramento, Calif., is a felter herself and has collected about 50 felted sculptures from various artists. She puts Megan at the top of the list and marvels at the artistry in the Eastern bluebird she created.
"He looks so realistic," Susan says. "It's not just the color and the blending, but she made him with outstretched wings and every feather is wired. I can fold his wings. Even the claws are wired." The bluebird perches on a plant.
"It's intensive work," she adds.
Working The Fiber
Megan researches each animal, studying its anatomy and working from as many as 25 photos as she builds its wire skeleton and wraps it with wool.
"Then I start building its shape," she says. "Instead of using my hands to sculpt, I use the needle."
With repeated punches of her needle, she works fibers into the shapes she needs.
To match the texture and appearance of the real animal's fur, Megan works with an assortment of animal fiber, including alpaca, white angora rabbit, and horse tail hair. She uses wool from several sheep breeds. The face of Stanley, a hedgehog, is made from Cottswold and New Zealand Lincoln wool and the handsome cinnamon-colored topcoat of Connor, a fox, is felted from Romney wool.
"Each sheep has a different fiber. Some is shorter and crinkly and that's really good for felting," Megan says. "I really love to try and blend my own colors by mixing different colors of wool, like mixing paint colors. I also like to blend colors on animals to create gradients. Many animals have darker backs than they do bellies, so it's fun for me to try to get this transition smooth and natural looking."
She enjoys experimenting with different kinds of wool and finds the greatest variety online, but was delighted to find an alpaca farmer near her home in Marion, Ohio.
"I had the opportunity to sort through and keep only the usable locks," she says. "It was a very hot and messy process, but it was still very fun to be immersed in that much fabulous fiber."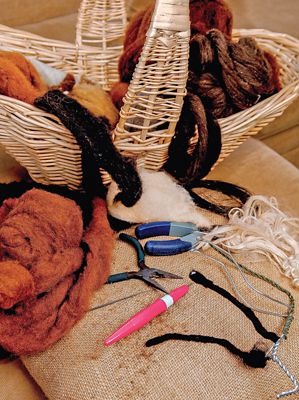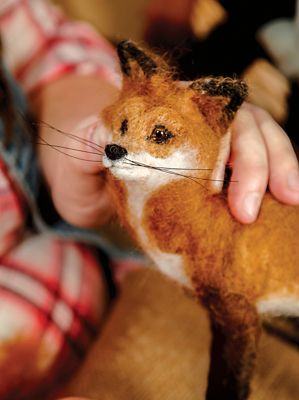 Her tallest creation of the 100 or so that she's sculpted is Nellie, a giraffe who stands 18 inches tall. Her most requested animal is a fox and the most time-consuming is the hedgehog that sports about a thousand individual quills.
"I'd take thin strands of wool and roll them like playing with Play-doh and making a snake," she says. "I'd use beeswax on the tips to keep them from fraying. Then I'd poke each one."
Megan works about 30 hours on a hedgehog, but can make a fox in about eight hours.
"Kasi, the cheetah, was especially fun because I had never made a cheetah before. It's such a thrill to have a new challenge," she says. "I really love animals and learning about them."
Megan names and photographs each furry friend whose faces with their glass eyes are alight with personality and charm. Sometimes, it's tough to send them off to their new homes. She still has a soft spot for Liam, a donkey whose face brims with humor.
"That's one I really loved," she says. "But now I have confidence in myself that I could make another donkey. They're all one of a kind, but I know I could make another donkey with another personality."
Marti Attoun is a Joplin, Mo., writer.