For Deborah Niemann and her husband Mike Boehle, living in the suburbs meant dining out, working out, and Sunday mornings reading the Chicago Tribune.
When they moved to a homestead in rural Illinois, their life changed a little. Dinner comes from their back yard. Fixing fences is their idea of exercise. And mornings are spent milking the goats and feeding the pigs.
You won't hear them complain. They're living a dream they talked about for years before making it come true.
"I remember the first few times we sat down to dinner and looked at the table and said, 'Wow! Everything on the plate came from here,'" Deborah says.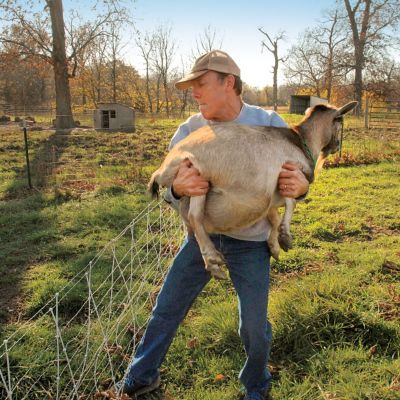 She and her husband own Antiquity Oaks, a 32-acre farm in Cornell, Ill., 100 miles southwest of Chicago. Besides the cow and goats, they raise sheep, chickens, turkeys, pigs, a horse, a llama, and ducks in the pond. Their garden produces organic heirloom vegetables. Their orchards provide apples, apricots, peaches, pears, cherries, and berries. They produce their own honey and syrup, age their own cheese, bottle their own wine, and make their own soap.
Except for coffee, bananas, and some other tropical crops, just about everything they eat comes from their farm. While some local food aficionados look for ingredients within a mile of their home, Deborah and Mike walk about 100 yards.
"This morning we had duck eggs with Swiss chard and tomatoes," Deborah says. "Right now we've got chicken marinating."
Making Changes
They knew almost nothing about farming when they started. But they knew they wanted to eat differently than they did before.
Mike was in the Navy when Deborah became pregnant with their first child. It was 1987, and Deborah thought about food the way a lot of Americans do: What's so wrong with a little fast food?
But as she started to read books about childbirth, she started to think more about nutrition, and how healthier eating choices can mean healthier babies.
"It was a completely revolutionary idea to me," she says. "When I got pregnant I thought a cheeseburger and fries was a completely nutritious and healthy meal. I honestly believed french fries, a couple pickle slices, and some lettuce constituted a vegetable."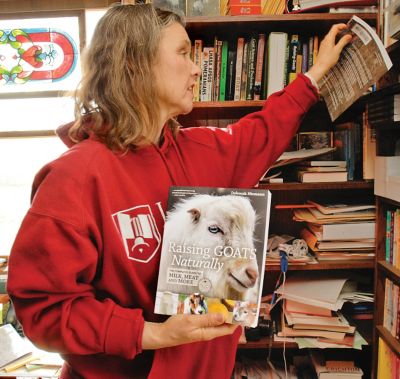 She started to think about her own childhood, which seemed like a string of illnesses and ear infections. She wanted something different for her daughter. When she read the ingredients on her favorite blueberry muffin mix and discovered those blue blobs weren't really blueberries, she realized it was time for a change.
The family started to eat more healthily. They went vegetarian for a while. And as they moved around Naval bases — Connecticut, Washington, Florida, Hawaii — they dreamed of one day settling down on a farm and raising their own food, without hormones or pesticides.
"I grew up tending a big bed garden with my parents and siblings pretty much every year that I can remember," Mike says. "I grew up growing my own vegetables and I always wanted to replicate that myself."
In 2002, they made it happen. Mike had retired from the Navy to central Illinois, where he was raised, and taught electronics engineering technology at a junior college in Joliet. Deborah was working as a newspaper reporter.
They found a 32-acre plot of land for sale 60 miles away, with fields, forest, and a stream running through it.
"We thought that's what we needed," Deborah says.
It turned out to be way more than they needed. Now, they farm only about a third of the land, but it took time for them to figure that out, along with other things. Their knowledge about farm life was pretty limited, so they turned to books and the Internet.
"The learning curve was really huge," she says.
Environmental sustainability is important to Tractor Supply, and we applaud others who feel the same way. That's why we're regularly featuring some of our customers and friends who are good stewards of the land. For more information on our Stewardship Program, click on "Environmental Sustainability" under "About Us" at the bottom of our TractorSupply.com home page.
But they made their way up the curve, and now they're helping others do the same. Deborah has written books with titles such as, Homegrown and Handmade: A Practical Guide to More Self-Reliant Living and Ecothrifty: Cheaper, Greener Choices for a Happier, Healthier Life. She blogs about life at Antiquity Oaks. And they teach courses at the farm on everything from making Camembert cheese to compost.
"As one person said to me, our next crop is going to be new farmers," Deborah says.
Sustainable farming isn't exactly easy, Deborah says, but it's doable, as long as you don't mind moving chickens at 5 in the morning or spending afternoons weeding the garden and trimming goat hooves.
"So many people say, 'Wow, you're living my dream. I wish I could do that,'" Deborah says.
The message they get from her and Mike, two self-described city slickers who carved a sustainable life for themselves in the country is simple: You can. And you don't need 35 acres. Just a little space, a little creativity, and a desire to live sustainably.
David Frey writes in Gaithersburg, Md.