When Mike Shoup set out to build his own plant nursery business in the late 1970s, he focused on hardy native plants that could thrive in Texas home gardens without special care.
Roses were not part of the plan. Too fussy and difficult to grow.
But that popular perception of roses began to change as Shoup hunted for and collected native plant seeds and cuttings around the state.
"I found roses growing where native Texas plants had evolved — on the back roads, at abandoned home sites, cemeteries, places where they weren't getting any care," he says.
Awakened to the fact that not all roses were delicate, hothouse flowers, Shoup began finding roses everywhere, particularly in less-affluent neighborhoods where they had been shared among neighbors and passed down through families.
That historical aspect, whether in a forgotten cemetery or a close-knit neighborhood, was the key to these roses' survival, Shoup realized. These had to be varieties that predated the high-maintenance hybrid teas popular in the 20th century. Their roots went back much further.
The cemetery roses were particularly telling. An old tradition was to plant the deceased's favorite plant on the fresh gravesite. Some of the roses he found were "on headstones that dated back over 100 years."
Making Scents
As Shoup collected and grew these rugged old mystery roses, he discovered they had more to offer. For starters, unlike the upright hybrid teas, they came in diverse forms — vines, ramblers, and shrubs of various sizes.
"Their shapes are all so different that they beg to be used in the garden as landscape plants," he says, which, coincidentally, was Shoup's original intent with native plants.
The old roses also gave off a variety of scents.
"Many of the modern roses have had the fragrance bred out," Shoup says. "But the range of scents is so compelling: citrus or pepper or banana cream pie."
And tied in with aroma is emotional resonance. Those old-rose fragrances can spark powerful memories in those who smell them, Shoup says.
"Maybe when they were 8 years old, they smelled a rose in their grandmother's garden, and now they're taken back in time. That's the 'soul' of the plant, that tie to the past."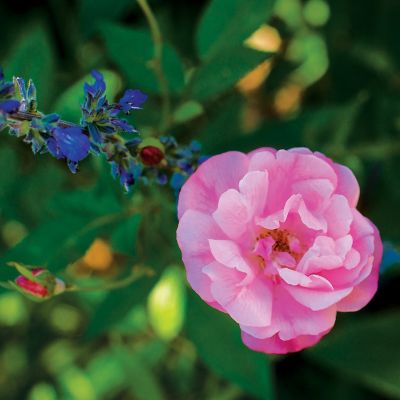 Historical Roots
Scent and memory aren't old roses' only links to the past. American and European settlers introduced many of the roses growing wild in Texas today. By poring over antique catalogs, Shoup found that some of the found roses strongly resembled old European varieties.
"What I called 'San Marcos' in the first few catalogs turned out to be 'Archduke Charles' from the 1840s," he says.
To confirm his catalog research, Shoup ordered specimens from internationally renowned rose collector and grower Peter Beales of England and compared them side by side to his found varieties.
"Found means we don't know how or when they were introduced," he says.
"Chinas and old tea roses, noisettes, bourbons, and hybrid perpetuals were what I was finding," Shoup says.
That realization helped Shoup expand his business. "If Old Blush and Archduke Charles do so well here, I could order them from Peter Beale and offer them here."
Over the years, Shoup, his employees, and fellow rose enthusiasts scoured the countryside for found roses in Texas, Louisiana, and as far afield as Virginia and Colorado.
Because the variety names had been lost to time, Shoup names his found flowers after the places where he finds them — Highway 290 Pink Buttons, Old Gay Hill. As word of his hunt for hardy roses spread among gardeners, some found roses were named for the homeowners who offered Shoup cuttings.
Perhaps the best known of these is the Martha Gonzales rose, introduced in 1984.
"She was so proud to be able to share her cuttings with us," he says, describing the East Texas homeowner whose ancestors had planted the bold red rose at her family home. The variety is now registered with the American Rose Society and is grown by the thousands for home and commercial use.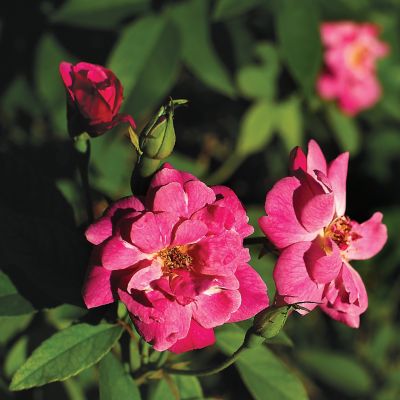 Growing For The Future
These days, with a catalog of 300-400 found, old, and hardy varieties, and a huge display garden to maintain for shoppers and special events, Shoup doesn't do as much "rose rustling" as he used to. Still, he encourages others to run their own "search-and-rescue missions," as he calls them.
The Antique Rose Emporium hears from people across the United States and all over the world — Puerto Rico, Morocco, and Sitka, Alaska — about their found roses. "People offer photos of their old roses for identification. If we don't know, then it's a variety that really needs to be saved," Shoup says.
Sometimes work goes beyond the preservation of a unique variety. Shoup is one of six growers in Texas and Alabama chosen by Texas A&M professor Dr. Bill Welch to grow and sell the Peggy Martin rose, which has become a symbol of rebirth and endurance after Hurricane Katrina devastated a swath of the Gulf coast in 2005.
Welch had originally collected cuttings of the handed-down variety from Martin at her home in Plaquemines Parish, La., in 2003 and he was impressed with how well the pink climber thrived in his central Texas garden.
After Katrina hit two years later, Welch tracked down Martin and found that though she had survived, her losses were catastrophic. Her parents died in the storm, her commercial fishing boat was lost, and her home spent two weeks under 20 feet of salt water.
Yet when Martin made it back to her devastated garden, the rose was still going strong. Welch, Martin, and Shoup collaborated to propagate and sell cuttings to preserve this incredibly hardy variety and to raise money for park and garden restoration in cities damaged by the storm.
Today, the rose is a favorite with novice gardeners and experienced rose growers alike and is a symbol of resilience.
A sense of history, an emotional meaning, and the ability to thrive under tough conditions — these are the qualities Mike Shoup admires in the roses he now raises and sells. It's a far cry from his original impression of roses during his early native plant collecting days.
"These roses are truly durable and time-tested," he says. "The best of the best, as tough and hardy as any native plant that I was searching for."
Casey Kelly-Barton is a Texas writer.