Ponds shift and modify through the years, as fish populations change, banks erode, and aquatic vegetation grows.
Much is said about aquatic vegetation, particularly about how too much of it can ruin the enjoyment of a pond. It reduces fish population because plants steal precious oxygen from the water; it often creates a foul smell; and it makes fishing difficult.
Disproportionate aquatic vegetation usually is caused by excessive nutrients that enter the pond from the watershed, usually from cattle waste or fertilizer applications and it's best controlled by removing the nutrient source. That requires fencing cattle and other livestock out of direct pond access and allowing a buffer strip of at least 100 feet between pond and agricultural crops.
But vegetation around a pond, particularly trees, also can create problems.
A few trees near the pond are a welcome shade in summer and add scenic value to the pond. However, it is best to place these trees several feet away from pond banks to reduce the amount of leaf fall entering the pond and also to protect pond banks from destruction caused by growing roots.
Leaf litter adds to the organic load of the pond, causing it to fill in faster. Heavy layers of leaves prevent oxygen from reaching the pond bottom, and conditions under the leaves allow hydrogen sulfide, a gas toxic to fish, to build up. When the leaf layer is stirred, hydrogen sulfide may be released in sufficient quantity to kill fish.
Trees that are rooted in ponds can remove large amounts of water through the roots and out into the atmosphere through pores in leaves via a biological process called transpiration.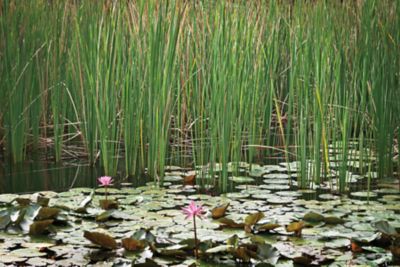 Pond water loss can be significant and noticeable from transpiration during periods of hot summer weather, when trees can remove as much as 50 gallons of water per day from the pond.
Erosion from banks into the pond reduces pond depth and shortens the useful life of the pond, so it's wise to plant and maintain a thick stand of perennial grass, which will halt erosion, on all banks. Vegetative cover should extend into the watershed around the pond for at least 100 feet.
Wind and wave action on exposed pond banks are another significant cause of pond bank erosion. A layer of rip rap — large crushed stone — in a band 2-3 feet above and below the water line on the prevailing downwind edge of the pond will reduce much wave- and wind-created erosion. So will windbreaks planted on the prevailing windward side of the pond. Windbreaks are particularly effective on smaller ponds.
Mow pond banks in areas where you plan to fish. Short grass will reduce tick and other pest populations and remove preferred snake habitat. If you don't plan to access the pond much, but prefer to leave it as wildlife habitat, then it's not necessary to mow around it. Grass, cattails, trees situated away from the banks, and shrubs provide shade, food, and nesting habitat for a variety of wildlife species.
Watching for damaging elements to your pond can extend its useful life and your enjoyment. Take time to briefly examine your pond and fix potential problems before they require expensive or difficult repairs.