There's a timeless and true geometric formula called the Golden Ratio, and for 40 years master woodworker George Wurtzel has sworn by it, even before he knew it existed.
"It's a method for proportioning. Some people call it the Rule of Five. It's in 3x5 note cards, or 5x7 or 8.5x11. If you look at those things they divide into fifths really easily," says Wurtzel. "It's also a naturally occurring rhythm in nature. Red oak trees are a good example. If you look at the red oak tree as the limbs go up, every fifth limb is approximately above the limb that is below it as it spirals up the tree."
"When you build furniture, a lot of people use that as their guide. It's naturally pleasing to the eye. I read about it long after I'd started to build things in my life," he says. "I found that after I'd read about it my concept of proportion was already working on that rule."
For Wurtzel, proportion is sensed, not seen. It's knowing how a table, a chair, or a cabinet not only works and functions on its own measure, but how it fits and accentuates the space it occupies. As near as he can recall, George Wurtzel has always had that special sense, even though he lost his sight as a teenager from retinitis pigmentosa, a genetic disorder.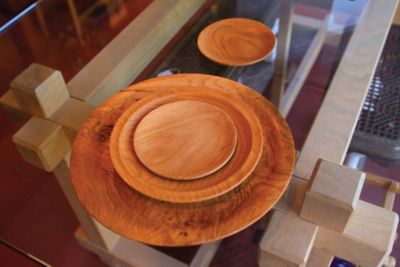 Being a blind woodworker is not that unusual, at least not to him, Wurtzel says. Most woodworkers use their eyes as a medium. He can't, so he finds other ways.
"The concept, the idea, the design is certainly not in your eyeballs. It's in your brain," Wurtzel says. "It isn't your eyeballs that go out and perform the work. That's in your hands. The eyeballs are just a convenient step in the process. I don't sketch. My process goes from the concept in your brain to going out in the shop and actually building it."
Drop by George Wurtzel's Minneapolis woodshop and ask him to build something out of wood. He'll say yes, even if he's never made it before. He hasn't said no to a project since he opened a woodworking shop in his native North Carolina decades ago.
"People have brought multiple different things into my life and asked, 'Can you build this?' and my answer is always yes. And then I go and teach myself," he says. "Obviously, I have the mechanical aptitude and the spatial relations in my DNA or wherever that comes from. Some people can sing. I can't sing, but I can build you a piano."
He is good-natured and easy to laugh and patient with clumsy questions about his blindness. There are boundaries, however.
"If you want to make me mad, call me an 'amazing blind person,'" he says. "I've spent all my life learning how to be a woodworker who just happens to be blind. It's no different than anybody honing whatever craft it is they do."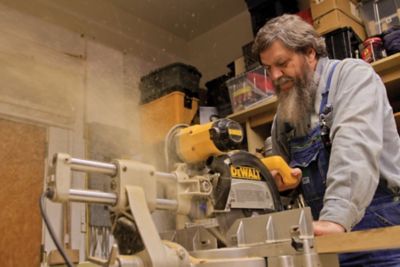 The Right Tools
The key to success, Wurtzel says, is to find the tools that help you get to where you want to go.
He relies on mechanical click rulers to measure. He relies on touch, on sound, and on technique to produce his intricate pieces. And after 40 years of operating power tools, Wurtzel still has all of his fingers. A table saw nipped off the tip of one finger at the end of a long workday a few years back, but Wurtzel blames fatigue for the mishap.
He shares what he's learned with anyone who's interested.
At workshops, Wurtzel blindfolds apprentice woodworkers and teaches them techniques he uses to cut wood that don't rely on vision. He once blindfolded an armless man and taught him to cut wood using his feet.
People often ask Wurtzel if he misses his vision, which was all but gone by age 19.
"I truly don't think I would be any better a craftsman if I got my vision back today than I am right now," he says. "Over time you in your mind build a library of things you've done in the past and you get to apply those to the next thing you build. So it's my accumulated knowledge as a craftsman that makes me as good as I am today. I don't think getting my vision back would make much difference."
John Commins is a Florida writer.