So you've decided to take the plunge into backyard chicken farming. Before you bring home your first flock, it's crucial to have all your ducks (chicks?) in a row for your new pets to be happy, healthy, and safe.
Raising a thriving flock means taking care of these irresistible little puffballs from Day 1. Making a plan and doing some research before bringing them home is a wise idea, advises Shari McCullough, who counts more than 250 chickens in her flock at Harvest Breeze Farm in west-central Indiana.
Before ever bringing home young poultry, first do your homework and find the right breed of chicken for your purpose and situation, she says.
"Do you want eggs, do you want eggs and meat, or do you want pets that lay eggs?" she says. Some breeds, such as Orpingtons, are called "dual-purpose" birds, meaning they can be used for both egg production and meat.
Once you decide which breed is right for you, it's time to establish a proper habitat for the chicks.
"The brooder is very important because little baby chicks cannot hold their body temperature," McCullough says.
She suggests using plastic totes for brooders and setting up a safe heat lamp designed specifically for keeping chicks warm. Keep a close eye on them to make sure they're not too hot or cold, she advises.
"If they're not warm enough they'll huddle together under the light and peep because they're stressed," she says. "And many times when they get stressed, they get pasty butt and that can kill them."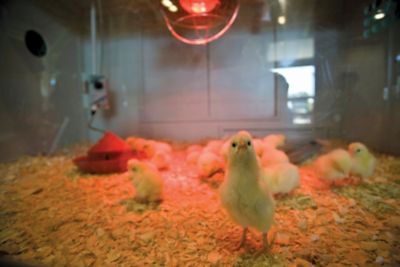 "Pasty butt," a common term among chicken farmers, occurs when the cloacal vent — the body cavity that carries waste from the chick's body — becomes clogged and the chick can't defecate, which is deadly. Normally, a mother hen keeps her chicks' cloacal vent clear, but if you're raising them yourself, you must keep them checked and cleaned.
Also within the brooder should be a waterer and feeder. McCullough recommends medicated chick starter to avoid potential issues with coccidiosis, an intestinal infection. Be aware that chicks are messy and will need their food and water cleaned out at least every day.
Sanitation is important to avoid health problems. Wood shavings help absorb waste and keep it dry.
"I always think, 'How would I like to live?' I want to live in a clean house and have fresh food and water available to me," she says.
Ideally, the brooder should be set up, warm, and ready for the chicks' arrival for a smooth transition to their new home. It also should be large enough to keep the chicks for six to eight weeks.
Planning ahead for shelter and food as the chicks grow is vital, as well. After the chicks outgrow the brooder and start feathering out, they'll need to transition to an outdoor coop. Among other things, this coop should have laying boxes, so the chickens don't lay eggs in random places.
Finally, feed your chickens correctly, she says. As the chicks grow into pullets and cockerels, they'll also graduate to eating layer feed, which provides them the nutrition they need for future egg production.
"Always buy food that's designed for chickens," McCullough says. She advises mixing half-and-half chick starter with layer for about a month when transitioning over — when chickens are about four months old — and then switching completely to layer feed after they're about five months old.
Western Colorado writer Erin McIntyre would like to thank her chickens Little Jerry, Kata, Ofeibeia, Eleanor Rigby, and Nugget for contributing to her knowledge of raising an urban flock.