Janice Fry attended countless county and state fairs, watching proud farmers-in-training and 4-H club members receive felt banners declaring their prized livestock "grand champions" of the fair. She never gave much thought to those banners — until she had her first child.
In 1986, with her 1-year-old son, Matthew, in tow, Janice watched the banners being handed out to winners of livestock competitions at the Indiana State Fair. Sitting in the stands, she decided that making banners was the perfect way to earn income as a stay-at-home mom.
Janice presented her prototypes to the Junior National Heifer Show and, to her surprise, members enthusiastically started placing orders. JF Awards, her new company, officially was in business.
Despite selling banners to several small county fairs, the entrepreneurial mom of three whose husband, Phillip, works at the Tractor Supply Company store in Greencastle, Ind., earned just enough revenue in the early years to cover her costs.
But as word of her custom banners spread, so did the demand. Now, JF Awards produces up to 2,000 banners per year for such clients as the American Hereford Association and American Shorthorn Association as well as state fairs in New York, Ohio, Indiana, Louisiana, Texas, California, and Nevada.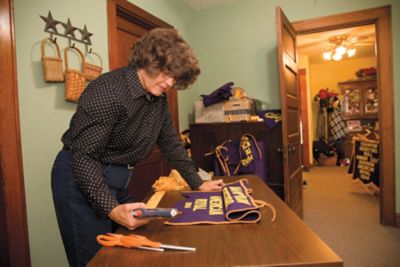 She is busiest during "county fair season" between March and September, in which she makes all of the banners by hand. Each one takes up to 40 minutes to complete.
As the business grew, Janice struggled to source enough felt and trim to meet the demand. Instead of going to the local fabric shop to purchase a few yards of fabric — her approach when she started making banners — she orders bolts of felt and thousands of yards of trim in advance, keeping a robust supply in her workroom to accommodate orders.
In addition to banners declaring "Champion Market Steer" and "Show Bull of the Year" that are handed out at agricultural competitions, Janice also accepts custom orders. When her son got married, she made a banner declaring the newlyweds "Grand Champion Couple."
But award banners for agricultural fairs are the bulk of her business — and a source of great pride.
"Knowing those kids have worked so hard to raise the cattle, hogs, and sheep and I get to be part of that is pretty special," she says. "I want to make a banner that my kids would be proud to win."
Her children, Matthew, Jessica, and Kristen grew up showing livestock and have multiple awards for their efforts. As a teenager, Jessica won "Grand Champion" at the Putnam County Fair and took home one of her mom's banners. Janice was surprised at how excited her daughter was about receiving the banner.
It's that excitement that keeps Jamie working long hours to meet deadlines for county fair banners — and to experience an unexpected benefit of the business, such as when the local newspaper publishes photos from the county fair.
"It still gives me a thrill to pick up the newspaper," she says, "and think, 'Hey, I made that banner.'"
Jodi Helmer is a North Carolina writer.