Workshop Safety | Winter 2014 Out Here Magazine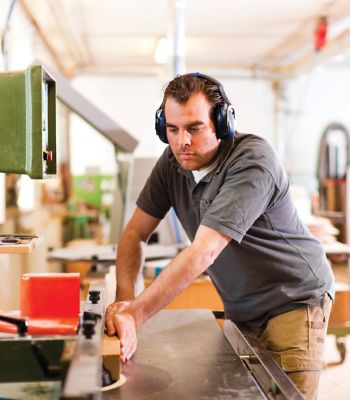 Protect yourself from avoidable accidents
By Purdue University Extension
Photography by iStock
Shop accidents don't just happen; they are caused. Most shop accidents — about 90 percent — are caused by human error, while the remaining 10 percent are the result of unsafe working conditions.
That's why it's essential that you develop safe working habits, be alert to unsafe working conditions, and take necessary precautions to avoid accidents.
MINIMIZING HUMAN ERRORS
Know how to use shop tools properly.
Provide proper instruction and supervision to guests in your shop until they become skilled in the use of the equipment.
Take frequent breaks when performing tedious tasks. Fatigue is a main cause of accidents.
Don't use power tools when you are emotionally upset; too often the result is damage to equipment or an accident.
PROTECTING YOURSELF
Remove jewelry and loose clothing before starting to work.
Wear eye protection when operating hand or power equipment, handling caustics or acids, and using welders.
Protect hearing from loud blasts and long-term noises.
Protect your respiratory system from fumes resulting from engine exhausts, paints and glues, chemicals, and welding.
MAINTAINING SAFE WORKING CONDITIONS
Clean up all oil spills.
Remove objects from traffic areas.
Check all movable objects, and make sure equipment is secure when elevated with jack stands and hoists.
Use the right tool and the right-sized tool for the job. This is easier when the tool storage area is in the right place and the tools are organized so they can be readily retrieved.
Provide adequate lighting over work areas as per the recommendations mentioned earlier.
Keep a clean, orderly workspace by returning tools to their proper location and disposing of greasy rags and other waste materials promptly.
FIRST AID AND FIRE SAFETY PREPAREDNESS
Provide a portable kit near the lavatory to apply first aid to minor cuts, abrasions, and burns.
Keep an eye-wash bottle (clean, fresh water) near the building entry and/or near where caustic chemicals are used.
Place emergency phone numbers near shop and home phones.
Place multi-purpose, dry chemical, tri-class A, B, C fire extinguishers in conspicuous and accessible places around the shop, such as near entrance doors and welding areas. This is the only one satisfactory for all common types of shop fires.
Never use water on grease or oil fires; water can actually cause such fires to spread.
In case of fire, first call the fire department, and then try to put it out.