Winter Bird Feeding | Winter 2014 Out Here Magazine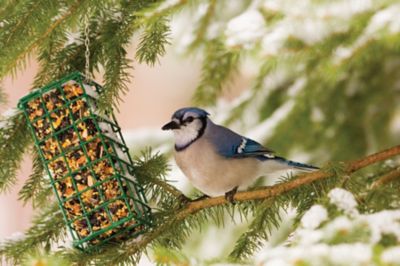 Provide suet to help wild birds keep up energy and stay warm
By John Commins
Photography by iStock
The person who coined the phrase "free as a bird" wasn't paying attention.
In fact, these beautiful creatures spend most of their waking hours searching for food. Their bodies are like tiny blast furnaces that generate the heat they need to get them through the long cold winter. To stoke that fire, these furnaces require fuel, and lots of it.
"Birds eat relatively more calories per day by far than humans," says Emma Greig, program director for Cornell University's Project FeederWatch.
How much? Greig says a 150-pound person would have to consume 61,853 calories each day to match the 10-calorie daily intake of an 11-gram Carolina chickadee. The daily body mass gains and losses for a chickadee would be the equivalent of a 200-pound person gaining 40 pounds every day, and losing it every night. Project FeederWatch research has shown that a chickadee will visit a bird feeder about 50 times a day, taking with it one sunflower at each visit.
It's not just the cold that makes winter a challenge for birds. In warmer months, they get their fat and other nutrition from berries, nuts, and insects — all of which are in short supply when winter settles in.
With that in mind, setting out suet for birds to supplement their diets provides them with an excellent source of high-calorie fat, particularly in winter, Greig says.
"It is definitely a favorite food item because it is so high in fat and that is exactly what birds want in the winter when it is chilly out and they are expending a lot of energy trying to take care of themselves," Greig says. "Suet is a really high-nutrient-value meal for birds, especially in the winter."
Suet can be placed in a regular bird feeder or in a separate, specialized feeder. It also can be hung from a tree branch or a line and pretty much anywhere in the yard. While it's always nice to have a view of the bird feeder from your kitchen window, Greig recommends putting the suet near vegetation.
"It's nicer for birds in case they get spooked, and that would be true of any bird feeder," she says.
Pure suet or some combination of suet mixed with birdseed, peanuts, or berries will work just fine. Winter's cold should be sufficient to keep the suet from spoiling, and birds likely will eat most of it well before there's a danger of it turning rancid. In warmer weather, when birds have more food options, suet might not be so readily consumed.
If Food Is So Scarce In The Winter, Why Don't All Birds Migrate South?
"Migrating is incredibly taxing. Lots of migratory birds don't make it," says Emma Greig, program director for Cornell University's Project FeederWatch.
"If you can stay in one place your whole life — for example, the downy woodpecker is going to be territorial all year round — that can be an effective way to survive because you are not traveling huge distances to unpredictable places," she says. "You are staying in a place that you know, where you can presumably find food regularly, whether it is bird feeder food or natural sources.'
John Commins is a Florida writer.