Straight Gait | Winter 2014 Out Here Magazine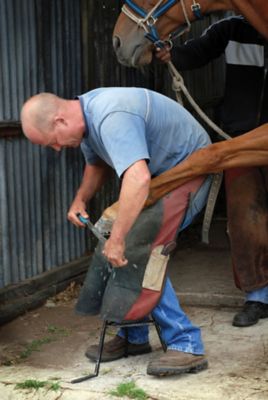 Therapeutic horseshoes protect and correct hoof and leg issues
By Heather Smith Thomas
Photography by iStock
People are not the only ones who need corrective or special shoes. Horses sometimes need therapeutic shoes to help support the foot while it heals from an injury, or to straighten a crooked leg when the horse is still young and growing.
Therapeutic shoeing covers a wide variety of methods used by farriers and veterinarians to help a hoof or leg with a medical problem or functional impairment.
If your horse has a lameness problem or injury, your farrier — often with the help of a veterinarian if the injury is severe — may use a special shoe or create one to allow the foot to function normally while it heals.
A regular metal shoe may be adapted for a specific purpose, such as adding clips that protrude up the side of the hoof wall to stabilize a hoof crack. Clips on each side of the crack keep it from widening and spreading, allowing it to grow out with normal growth of the foot.
Glue-on shoes are often used for thin-walled crumbling feet that won't hold nails. They also work nicely on foals whose feet are too small for shoes and nails. If a foal is born with crooked legs, a glue-on wedge applied to one side of the foot can help the leg straighten as it grows.
A horse with laminitis — also called founder — or severe arthritis can be helped with a rolled, or rounded, toe or even no toe at all, enabling the horse to more easily pick up its foot and walk with a natural gait. A horse with a tendon injury may need a shoe with a high heel to help take tension off the tendon while it heals.
A puncture wound in the bottom of the foot, or some other type of hoof infection or abscess may require a shoe with a removable plate on the bottom to protect the wound and still allow daily treatment. A bar shoe — with a continuous piece of metal across the heel area — can give added support to the heel in certain conditions such as laminitis, navicular syndrome (heel pain), and hoof cracks.
Years ago, one of my geldings suffered a severe stone bruise that abscessed and we had to open it to drain, and soak the foot until the abscess cleared up. He was no longer lame, but had a large hole in his sole that needed protection until it filled in again with hoof horn — a process that would take six months or more.
To protect it while we were chasing cows and endurance riding, we created a special shoe with a metal plate welded across that part of the sole, behind the toe. This enabled him to travel confidently through sharp rocks with no danger of re-injuring the still-healing wound.
Therapeutic shoes are usually created or applied by your farrier and/or veterinarian. They may be a temporary "fix" to support or protect the foot while it heals or until the defect in the hoof wall grows out.
Sometimes, however, they may be a permanent fix for a horse with a chronic problem, such as founder or arthritis, to help him move more comfortably. Therapeutic shoes also are an effective, permanent fix for an adult horse with crooked legs to keep him from "hitting" himself, which is when a foot being picked up swings inward toward the other leg, rather than swinging in a natural, straight movement. If the hoof strikes the other leg, it can severely injure the horse.
Corrective shoes that are reapplied each time the horse is shod will help his legs move in a straight, rather than crooked, gait, so he moves more comfortably and won't hurt himself.
If you notice changes in your horse's gait, talk to your veterinarian and farrier to diagnose the problem and determine whether therapeutic shoes are the solution.
Heather Smith Thomas has authored several books on horse care.