Protecting Poultry | Winter 2014 Out Here Magazine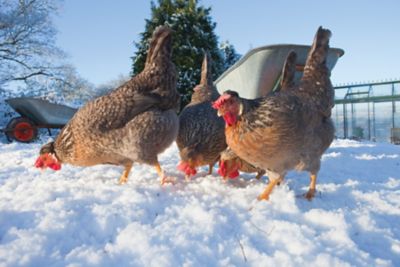 Tips for keeping chickens in winter
By Erin McIntyre
Photography by iStock
Winter brings unique challenges to keeping a flock of chickens happy and safe. While shelter, food, and water are important needs for chickens at all times, providing these in wintertime is absolutely vital.
Animals must have access to fresh drinking water. If your coop is near an electricity source, an electric chicken waterer can help keep drinking water from freezing. But if you don't have the means to plug in an electric waterer, you can simply keep a spare waterer in the house and switch it out with the frozen one as often as needed.
Although regular layer feed is all a mature flock probably needs year 'round, some chicken keepers like to feed their flock scratch during the winter. That's because scratch includes whole grains that actually help produce more body heat during digestion, providing a little more warmth as chickens roost overnight.
But that scratch should be used as a treat — one bag should be enough for the winter for small flocks — and provided only when it's very cold.
Shelter also is important. Chickens should be able to survive winter without supplemental heat, as long as they're used to those conditions. Chickens' warm feathers insulate them from the cold, and a small flock's combined body heat can keep a henhouse toasty.
If a flock owner notices signs of frostbite — blackened tips of the comb or even feet — examine the henhouse for drafts, but also check to make sure it's properly ventilated.
Observe the chickens on their roost, Schneider suggests. "If you see their feathers moving, that is a draft," he says. While you don't want drafts, an airtight coop is even worse.
Frostbitten toes can indicate a roost is too small, because chickens normally will lower their bodies onto their feet, protecting their talons with their feathers.
Some poultry owners in particularly cold regions stack straw bales around their coops to protect against wind and provide insulation, without impeding ventilation.
No matter where you live, check on your flock frequently during winter and make sure to head off any problems as soon as they occur.
Erin McIntyre's five chickens endured a frigid winter last year in western Colorado, so she's hoping for a milder season this year.