Project FeederWatch | Winter 2014 Out Here Magazine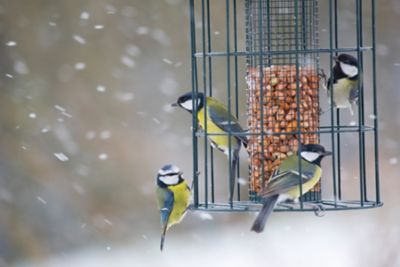 Census helps scientists track population and movements of our favorite backyard birds
By John Commins
Photography by iStock
For the past 27 winters, thousands of people in the 50 states have volunteered to help with a massive bird count that provides ornithologists with critical data about bird populations and migratory patterns.
Project FeederWatch, led by Cornell University's Lab of Ornithology, asks volunteers — now numbering more than 17,500 Americans and 3,500 Canadians in a sister program — to provide a weekly census of birds that flutter about in their back yards and feeders between November and April, also recording the species, and what they're feeding on.
Project FeederWatch is recruiting new volunteers for its 28th winter and program leader Emma Greig says experience is not a requirement.
"You can do this even if you aren't great at identifying birds," she says. "We send people a poster. There are staff at the lab who are dedicated to helping participants correctly identify the birds they see. Folks can send us photos and ask for help or send descriptions and then we can identify it."
"It seems that people who are participating for a long time, if they aren't great birders to begin with, they end up learning a lot during the process."
The program asks volunteers to count birds no more than once a week.
"At any given site, any house, the birds there are going to be coming over and over again. It's too redundant to count every single day," Greig says. "We have gone with a weekly count. It is convenient for people because you can do it every Saturday or Sunday.
Volunteers can spend anywhere from 15 minutes to two hours at each weekly sitting to count and identify the birds that come to their feeders, Greig says.
"We have a few protocols that we explain to folks just so everyone is counting in the same way but it is incredibly straightforward," she says.
FeederWatch is a perfect project for families, Greig says, and the bird count provides students young and old with a first-hand role in a continental scientific recording project.
A number of scientific papers are based on FeederWatch data. For example, ornithologists used the data to track the migratory patterns of Anna's Hummingbirds along the West Coast and learned that the tiny birds are expanding their winter range in the north, and staying there longer.
"Now we are trying to figure out if that has to do with changes in climate or urbanization levels or if it has to do with changes in how people are feeding birds," Greig says. "If they are feeding more in northern areas, that is facilitating the movement of these birds."
Project findings are shared with volunteers through emails, a website, a blog, and a Facebook page. FeederWatch also sends volunteers an annual report called Winter Bird Highlights that provides details and context for the season's count results.
"We try to make sure we are spreading the cool things that come out of it back to the folks who are helping us discover all of this," Greig says.
There is an $18 fee to join, but Greig says the money is used to cover the costs of the posters, a handbook, a calendar, and support systems for volunteers. "Folks are getting something for that," Greig says.
To learn more about Project FeederWatch or to volunteer, go to feederwatch.org.
John Commins is a Florida writer.