Pitchforks and Pie Forks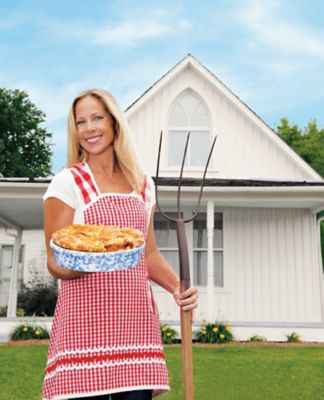 Beth Howard in front of American Gothic House with a pie and a pitchfork
American Gothic House is home for cookbook author
By Marti Attoun
Photography by Cliff Jette
Beth Howard keeps a pitchfork in the corner of her living room. It's handy to grab for a photo prop and that's important when you live in the American Gothic House.
The 1881 humble white cottage — except for those high-and-mighty arched Gothic windows in the gables — is the backdrop for artist Grant Wood's world-famous and oft-parodied painting, American Gothic.
A steady parade of people visit the house in Eldon, Iowa, where they don overalls and aprons and pose with pitchforks to duplicate the solemn farmer and his daughter in the painting.
But for five years, America's most famous little house also has been home for author and pie maven Beth, who rents it from the State Historical Society of Iowa.
"I'm living in a masterpiece painting," Beth says. "When I looked at the real painting at the Art Institute of Chicago, I remember thinking, 'I live in that house. My dogs are behind those windows.' I wanted to crawl into the painting and go home."
The board-and-batten house with its fanciful windows first caught Wood's eye in 1930 when he was visiting Eldon for an exhibit of his paintings. After making a pencil sketch on an envelope, he completed the oil painting at his studio in nearby Cedar Rapids.
Wood convinced his sister, Nan, and family dentist Byron McKeeby to model for the grim couple. That same year, the painting won a $300 prize from the Art Institute of Chicago and quickly captured the public's attention.
The little house, which is less than 700 square feet on the ground floor, first caught Beth's eye in August 2010. She had just judged the pie contest at the Iowa State Fair in Des Moines and was driving through southeast Iowa when she spotted a sign for the American Gothic House.
"I fell in love with the tiny, humble farmhouse," she says. Within two weeks, she had rented and moved into the tourist attraction. Soon, the scent of fresh apples baking in buttery pie crusts perfumed the kitchen.
POWER OF PIE
The power of pie — baking them, sharing them, writing about them — has been a sweet constant in Beth's life since 2001 when she left a lucrative San Francisco web producing job with its 16-hour days.
"When I left, I told my boss that I just wanted to bake pie," she says. When he asked her qualifications, she piped up, "I'm from Iowa."
Yearning to work with her hands, she took a job baking pies at a Malibu deli that counted celebrities such as Barbra Streisand (lemon meringue) and Steven Spielberg (coconut cream) among its customers.
Then in 2009, Beth discovered the healing power of pie after her husband, Marcus, died from a ruptured aorta at just 43 years old. Five months later, she was feeling at loose ends when she agreed to help a television producer with a pie documentary. Part of that project involved baking 50 pies and handing out free slices on the streets of Los Angeles.
"People would take a bite and say, 'Wow. That tastes just like my grandmother's pie,'" Beth says. "I was at the lowest point of my life, but realized that I could bring happiness to other people, and that made me feel good."
Settled into the American Gothic House, Beth immediately fired up the oven and for five seasons baked thousands of pies — peach, shoofly, and strawberry rhubarb — for hungry tourists who visited her Pitchfork Pie Stand.
CRIMPING AND CREATING
Today, Beth holds pie-baking classes in the American Gothic House kitchen and dining room where she rolls out dough and sprinkles on her philosophy of life, which is that homemade pie creates goodwill and builds community and learning how to bake a pie boosts confidence.
She shares her favorite recipes and pie-inspired wisdom through her blog, TheWorldNeedsMorePie.com, and books, including her latest, Ms. American Pie: Buttery Good Pie Recipes and Bold Tales from the American Gothic House.
"This house is my little sanctuary," Beth says. "I like the coziness of it and feel protective of it."
She's learned to live in harmony with country critters, although she prefers that bull snakes remain outdoors. Her standard garb is a pair of bib overalls and tall rubber boots.
"But it's nice to be connected to the outside world," she says, referring to the folks standing in her front yard with cameras and cell phones. "Sometimes I leave the door open and they can peek in."
In her rental contract, Beth agrees to keep curtains in the south-facing windows and to "treat tourists in a pleasant manner." She doesn't put furniture or Christmas lights on the porch or do anything that would alter the appearance of the beloved painting.
Meanwhile, visitors can slip into costumes at the American Gothic House Center next door, where exhibits chronicle the story of Grant Wood's rise to fame after "American Gothic." The free museum provides overalls, aprons, eyeglasses, and pitchforks.
Museum volunteer Don Harness shows the visitors where to stand for their souvenir photo in front of the world-famous backdrop.
"To me, this is 'rural America,'" Harness says about the house and painting.
To Beth, the landmark is just home.
Marti Attoun is a Joplin, Mo., writer.