Peafowl Perfection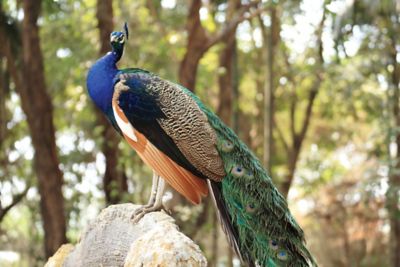 Blue peacock with green feathers sitting on a perch
The colorful birds are easy to raise and fun to watch
By Jodi Helmer
Photography by iStock
When Stephanie Tindell made an offer on a Virginia farmhouse, the homeowners had an odd request: If she purchased the home, she had to care for the resident peacock, Solomon.
"The previous owners trained him to come to the back patio at dinner time for snacks," she recalls.
In the midst of feeding the India blue peacock green grapes and unsalted peanuts, Tindell fell in love with the colorful peacock and wanted to learn all she could about the birds.
Almost two decades later, Tindell is a peafowl breeder and member of the board of directors of the United Peafowl Association. She raises peafowl on Silver Creek Farm in Maryville, Tenn.
A passion for peafowl led Tindell start teaching others about raising the exotic birds. She even wrote a book, Let's Get Started Raising Peafowl!
Here are her tips for getting started:
Know the lingo. Tindell often gets a blank stare when she mentions peafowl. The reason: Most people are familiar with peacocks, the correct term for the males, but had no idea females were called peahens and babies were called peachicks. Peafowl come in several different colors and patters. Indigo blue is the most common but there are also white, bronze, charcoal, purple, and emerald green birds.
Understand their habits. Unlike chickens and ducks that are raised for eggs or meat, peafowl are raised as colorful companions, not food — although some people do eat the eggs.
During mating season, which lasts from March through August, peacocks let out loud screams to attract hens. "One of the neighbors thought it was someone screaming for help," Tindell says.
Their loud calls mean that many city ordinances prohibit keeping peafowl. Even in rural areas, Tindell suggests letting neighbors know about their cries and apologizing in advance for the noise.
Habitat. Raising peachicks is much like raising chickens; the babies need to be kept in a brooder box with a heat source — Tindell uses a plastic storage container with a 40-watt lamp hanging above it — and humidity levels of 55 to 65 percent until the chicks are at least six weeks old. As the peachicks grow, the temperature in the brooder box should be reduced five degrees per week.
The peachicks can be moved to a sheltered outdoor area after six weeks. Tindell does not integrate them with peahens and peacocks until they are a few months old.
"The adults will peck at them," she explains. "I keep them penned up (in large dog crates) until they are old enough to fend for themselves."
Adult peafowl can free range or be kept in enclosures with netting over the top to protect them from predators. It's important to provide perches that are at least four feet tall and six feet from the walls of the enclosure so the peacocks don't damage their tail feathers.
Food. Peafowl must have constant access to fresh water. For feed, Tindell favors commercial game bird food. She supplements their feed with cracked corn during the winter to help them adapt to the cold weather.
Peafowl also like treats such as sunflower seeds, unsalted peanuts, watermelon, cantaloupe, and cabbage mix. Free-range peafowl will also eat grasses and bugs.
Healthcare. Aside from worming the flock every few months, peafowl are low maintenance. Tindell does offer an important note of caution: It is essential to keep peafowl separate from chickens — even their crates and enclosures should never have been home to other birds.
"A lot of the diseases that chickens can fight off are fatal to peafowl," she says.
While there is a learning curve, there are also significant rewards to raising peafowl.
"I had to learn all of this from scratch," Tindell says. "Now I have peafowl that will come up and sit beside me. It's an absolute joy."
Jodi Helmer is a North Carolina writer.