Old Farmer's Almanac Predicts Weather Extremes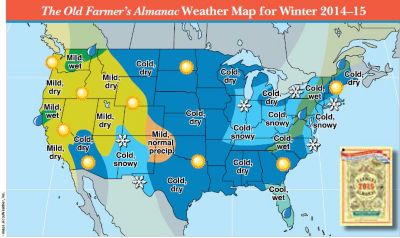 Winter 2014-15 weather map from the Almanac
Another teeth-chattering cold winter is on its way, predicts the 2015 Old Farmer's Almanac. With its traditionally 80 percent–accurate weather forecasts, Old Farmer's Almanac predicts that this winter will be another arctic blast with above-normal snowfall throughout much of the nation. The extreme weather will continue into summer 2015, which is expected to be predominantly hot and dry.
"Winter will bring a frosty bite and next summer will be its mirror opposite, so get ready for a one-two punch," says Janice Stillman, editor of Old Farmer's Almanac. "Be prepared — there's plenty in the forecast to cause all sorts of mayhem: blizzards, droughts, and hurricanes."
The Almanac has predicted weather since 1792 — during George Washington's first term as president.
Pick up your copy of the 2015 Old Farmer's Almanac at your local Tractor Supply store.