Little Town on the Prairie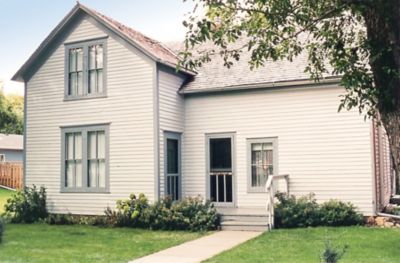 The Ingalls' family home
By Hollie Deese
Photography courtesy of The Laura Ingalls Wilder Memorial Society
When Laura Ingalls Wilder was just 12 years old, she and her family settled in De Smet, S.D., in 1879 — a move that would prove to inspire one of the most famous and beloved series in American literature, the nine Little House on the Prairie books.
Wilder continued to live in De Smet until 1894 when she was 27, spending more time here than any other place she called home throughout her life.
"She spent a lot of her time here — her growing-up years, her teenage years, her courting years, getting married," says Cheryl Palmlund, director of the Laura Ingalls Wilder Memorial Society. "By The Shores of Silver Lake, The Long Winter, Little Town on the Prairie, These Happy Golden Years, The First Four Years are all written about her memories here in De Smet."
In 1957, shortly after Wilder died, a small group of citizens were determined to preserve the heritage she left behind in De Smet. It was too good not to.
"It started small by marking all of the spots Laura mentioned in her books with plaques," Palmlund says of the beginnings of the nonprofit organization. "Then, during that same year, one acre of Pa's original land was donated to the society. They raised money through school children who would send in pennies, and they put a memorial stone with a plaque on that one acre to memorialize the homestead and the family."
All the homes have guided tours, and a temperature-controlled room in the gift shop stores artifacts not on exhibit.
"We have a wealth of Laura Ingalls Wilder history here," Palmlund says.
A walking tour through town has 45 metal signs with historic information about the sites that Wilder mentions in her books, so you can walk down Main Street and see it through the author's eyes, including the only remaining original building, the Loftus store that sold Pa's suspenders.
Each summer, the Laura Ingalls Wilder Pageant Society stages an outdoor production of one of her books for three weekends in July with an all-volunteer cast and crew, and on the Ingalls homestead-turned-living history park, people can get a covered wagon ride, twist hay to make rope, and have a real pioneering experience.
Each year about 25,000 fans of both the books and television show come through De Smet, with its population of 1,110 to experience life as Wilder knew it. Visitors should plan to spend a few days in the area to see everything related to Little House, Palmlund says.
Visitors frequently are moved to tears to be in the presence of Wilder's greatest inspiration, Palmlund says.
"The people who read Laura's books are very loyal to her, and are so touched that they are standing where Laura actually lived and worked," she says. "She is a very detailed writer and I think they can experience things through her they would never be able to experience. She wrote her books because she wanted children to know what it was like to live so long ago."
Even Palmlund herself still can get choked up at the magnitude of what she grew up around. One day she was in the back room of the library, shuffling through some of the older editions of Wilder's books.
"There was a really beat up, old, By the Shores Of Silver Lake hardback book," she says. "I opened it up and pulled the library card out and it had my name in it from 1965, my maiden name in little kid scribble, when I was about 9 years old. And that was so precious to me because I read all those books when I was little and remember going to the library and checking them out. And then when I started working here later in life, it was like 'Wow. I was born and raised here and didn't even realize what we had.'"
Hollie Deese is a Gallatin, Tenn., writer.