Horse Haven | Winter 2014 Out Here Magazine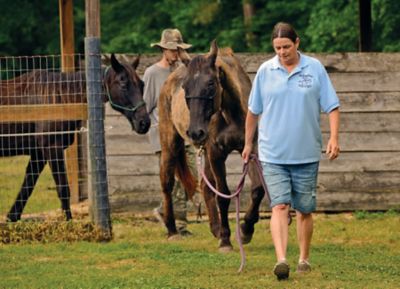 Lori Yonts founded Sunkissed Acres to provide a safe place for unwanted senior horses.
At Sunkissed Acres, aging equines finally find enough to eat, kind hands, and loving hearts
By Colleen Creamer
Photography by Billy Weeks
For horses living at Sunkissed Acres farm, being put out to pasture is most definitely a good thing. This 60-acre spread nestled in the tri-state corner of Alabama, Georgia, and Tennessee is a peaceful slice of heaven to two dozen older horses, most of whom endured neglect and abuse before arriving at this scenic farm. Here, they're given the kind of sunset years all aging equines deserve.
It all started when owner Lori Yonts sent her own aging horse to what she thought was a reputable retirement farm about 10 years ago. Unbeknownst to Lori, the farm's owner never fed her horse and then took her to auction to be sold. When Lori found out that her beautiful gray mare was heading for what is commonly termed the "meat man" and certain death, she acted quickly.
"I bought her back for 50 cents," Lori says. The neglect had taken a toll on Lori's horse, but Lori nursed the elderly mare back to health. "She's 33 now and quite fine," Lori says. That incident gave Lori the idea of creating a real retirement farm where owners could keep their older horses and pay for basics such as feed. But before the modest paying venture could take off, the word got out that Sunkissed Acres was taking in senior horses, and immediately people just began dropping their older horses off, many of them abused.
Lori was now in another business — the rescue business. "I think about the first 10 or 15 horses that came here for retirement were all starving to death and were just left," she says. "I had a lawyer very quickly talk me into becoming a (nonprofit)." If Lori can find homes for these seniors, she does, but that happens rarely. Most are not "adoptable," meaning they can't be ridden.
So, when Zac Henderson and his wife Lynne, of Georgia, wanted a companion for their last aging horse, they asked Lori for one of her rescues. They then adopted two more from Sunkissed Acres just to give them homes. Henderson refers to Yonts and the farm's singular volunteer, Becky Byrd, as "horse angels." "They have been so good to work with," Henderson says. "These are very special people on this earth."


SPECIAL CARE
Lori holds two fundraising events a year and the funds from those, along with some minor donations, help keep the aging bodies and souls on the farm together. And though she has to stretch those donated dollars, it's a misconception, she says, that the care of older horses costs more.