Helping Paws | Winter 2014 Out Here Magazine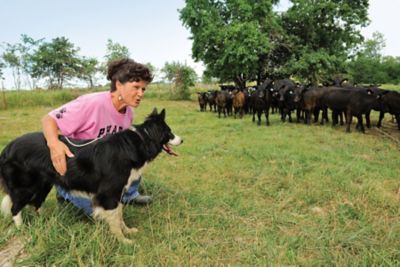 Farmer Alda Owen may be legally blind, but with the help of her border collie farmhand, Sweet Baby Jo, Alda is independent and able to help her husband, Rick, with their livestock.
Farmers with disabilities find freedom in four-legged farmhands
By Marti Attoun
Photography by Amy Stroth
Out in her pasture, Alda Owen watches her cattle, but sees only their vague shapes. The legally blind farmer isn't nervous about working with them, however, because her four-legged farmhand is at her side.
"Jo, bring 'em up," Alda tells her black border collie, Sweet Baby Jo, who creeps low to the ground toward the cows and herds them into another pasture. Alda also directs the dog through her chores with such commands as "walk up" and "get down."
"Her eyes are my eyes," Alda says. "I used to walk myself to a nubbin because I'd think a shadow in a bank was a cow." Worse, a bull once smashed into her leg when she couldn't close the pasture gate quickly enough.
With Sweet Baby Jo's help, Alda is independent and able to help her husband, Rick, with the livestock on their 260 acres in Mayville, Mo.
And Alda received her trained furry helper for free, thanks to Jackie Allenbrand, who founded PHARM Dog USA (Pets Helping Agriculture in Rural Missouri) in 2005. PHARM dog USA provides service dogs to assist farmers with disabilities in carrying out their daily activities on the farm.
Jackie, a farmer in Stanberry, Mo., created the program while working with the University of Missouri Extension's AgrAbility program, which helps to enhance quality of life for farmers, ranchers, and other agricultural workers with disabilities.
"People think that when a farmer is injured or has an accident they can't go on and do farming chores, but they can," Jackie says. "We have cattle and row crops on our farm and use dogs. Since I was working with farmers with a variety of disabilities, I thought, 'Why not go ahead and train the dogs for a specific purpose?'"
"Service dog training is nothing new," she says, "but what makes this program unique is it's training for the farmers. We look at the needs of the farmer and train the dog."