Earth-Friendly | Winter 2014 Out Here Magazine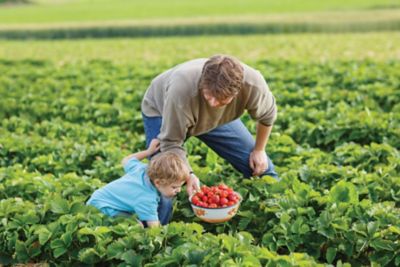 Sustainable farming methods are kinder, gentler for the land and the wallet
By David Frey
Photography by iStock
There's no question that farmers love the land. They couldn't put in the long hours of backbreaking work over their crops if they didn't. But farming techniques can present challenges. Poor soil practices can lead to runoff. Some fertilizers can pollute the waterways. That's why many farmers are turning to sustainable farming practices that are easier on the soil, water, and wildlife.
Often, experts say, they're not only better for the farm, but they're more economical, too. "We think of it as a three-legged tool," says Diana Friedman, research assistant at Sustainable Agriculture Research & Education, a part of the U.S. Department of Agriculture dedicated to promoting sustainable agricultural practices through educational programs and grants to farmers and researchers.
Those three legs are profitability, stewardship, and quality of life, and they go hand in hand, Friedman says. "There are a lot of different ways to approach sustainability," Friedman says, "but ultimately the people who are the most successful are the ones who think about the entire system."


USING NATURE'S BLUEPRINT
Just what the term "sustainable" means can be hard to pin down, but it doesn't need to be so abstract. For Friedman, it's about keeping the "cycle" of what goes into the farm and out of the farm as tight as possible. That means conserving water, preserving the soil, and being energy efficient.
It means keeping nutrients where they're naturally supposed to be and creating a diverse farm that mimics a natural ecosystem as much as possible. Crops put nutrients into the ground that other crops take out. Animals add manure. Beneficial insects find a home and keep out the pests that can kill or damage crops. "The concept is pretty basic. Just happy animals, ample food, and ample water," says farmer Greg Glenn. He started Rocklands Farm in Poolesville, Md., using farming processes like the ones nature uses.
His cattle intensely graze the pasture, like the buffalo once did on the Great Plains, chewing the grass to stubs to encourage fresh new growth. Their manure provides the fertilizer. Roaming chickens become natural manure spreaders and insect eaters. Rotational plantings and cover crops keep the vegetable fields in balance, so the nutrients that one crop takes away another puts in.
"It's like a Picasso painting," he says. "You have all these different pieces." Glenn isn't alone. "A lot of sustainable farmers are concerned with protecting habitat and creating a farming system that mimics an ecosystem as much as possible," Friedman says.
Some use nature itself. Bordering a field with hedgerows not only helps protect the soil by creating windbreaks, it also creates a habitat for beneficial insects that gobble up the ones that destroy crops before they can be picked. "Agriculture is about a system," Friedman says.
Back to that three-legged stool, sustainable farming isn't just better for the environment, she says. It can be better for the bottom line, too. But it's not as simple as going completely organic; it means rethinking the entire system behind the farm, Friedman says.
Environmental sustainability is important to Tractor Supply, and we applaud others who feel the same way. That's why we're regularly featuring some of our customers and friends who are good stewards of the land. For more information on our Stewardship Program, click on Environmental Sustainability in the About Us section at the bottom of the TractorSupply.com homepage.
"What am I planting? When am I planting?" she says. "Farmers who are oriented toward system-thinking are thinking about things in a much longer time frame." Consumers are helping farmers meet that bottom line. Organics make up one of the fastest-growing segments of the market, Friedman says. Even big corporations are looking for organic suppliers to fill supermarket shelves.
At the farmer's market, ordinary shoppers are willing to pay more for meat and produce that came from a farm down the road, even without the organic label, if they know the farmers use more sustainable methods to raise it, Friedman says. "There's been a big explosion in the awareness of food production," she says. "Consumers are much more involved than they were 20 years ago in terms of thinking about where their food comes from."
David Frey writes in Gaithersburg, Md.