Country Vet | Winter 2014 Out Here Magazine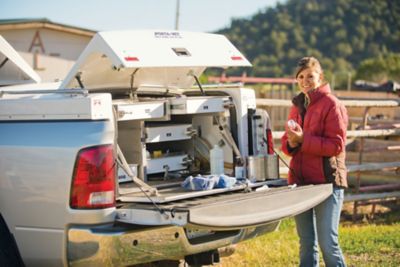 Dr. Morgan McCarty's mobile veterinary office carries everything she needs to treat livestock in the field, including 40 gallons of water.
Dr. Morgan McCarty relishes working with 'salt-of-the-earth folks' dedicated to their livestock
By Carol Davis
Photography by Mark Mosrie
The horse had somehow scratched his leg, causing swelling, and his young owner was concerned enough to drop by Dr. Morgan McCarty's veterinarian practice for guidance and maybe some medicine. "Keep him walking," advised Dr. McCarty, "and I'll get some (antibiotic) cream mixed up and leave it in the mailbox."
Indeed, the practice of a rural horse-and-cow doctor is a bit different than that of a small-animal practice that centers on four-legged friends considered part of the family. Dr. McCarty's patients are usually much larger than she is and most have a job to do, such as providing milk or meat, pulling a wagon, building a herd, or winning competitions.
Practicing in a rural area also has its own originality. Where else could she leave antibiotics in a mailbox and be assured that they'd be left alone? And where else could her real office be defined not by walls and examination rooms, but by dirt roads, corrals, and some of the most majestic scenery found anywhere? Yes, being a rural veterinarian suits Dr. Morgan McCarty just fine.
TECHNOLOGY IN THE FIELD
Dr. McCarty's eyes light up as she spots some of her favorite patients — a herd of shire horses. This breed of draft horse is extraordinarily large, with stallions standing as tall as 17 hands — 68 inches — and winning world records as both the tallest and largest horse overall. Their hooves measure nearly the size of dinner plates.
"They are some of my favorite patients," she says. These gentle giants generally have good dispositions, and Dr. McCarty always looks forward to providing checkups, administering vaccinations, and treating shires, even as they dwarf her.
At a recent examination, she used an ultrasound to check on a shire mare's pregnancy — an exam that wouldn't have been possible just a few years ago. Indeed, as technology has evolved in human medicine, it has followed suit in veterinary medicine. "We're not cutting edge, but we do stay up-to-date with medication and equipment," Dr. McCarty says.
Though Dr. McCarty examines her patients in their own corral, she has easy access to all of each animal's medical records, now kept on computer. Her digital X-ray system allows her to take X-rays on the farm, where the images instantly come up on her computer screen for immediate evaluation. The computer's Internet capability allows her to email X-rays to a board-certified radiologist, if necessary, for a rapid diagnosis so treatment can begin.
"The ease in which they can be shared is pretty remarkable," she says.
"That's a lot different than even 10 years ago, when you would take an X-ray with traditional film, take it back to the practice to develop it in the darkroom, and then drive back to the ranch to begin treatment," she says. "And if you didn't take a clear X-ray to start with, you had to do the whole thing again."