Case® Knives | Winter 2014 Out Here Magazine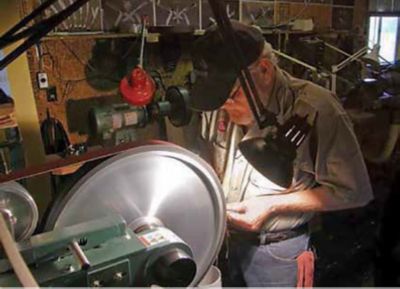 Custom maker Tony Bose takes his place in American cutlery company's 125-year history
By Carol Davis
Photography courtesy of Tony Bose
Renowned knifemaker Tony Bose, of Indiana, may spend four hours shaping and re-shaping a genuine bone handle, making it perfect. That attention to detail and eye for perfection caught the attention of W.R. Case & Sons Cutlery Co. in 1998.
Now, Bose is among the designers who collaborate and consult with Case to create pocketknives that will be used and collected for generations to come. Bose has a part in continuing the company's rich history that began 125 years ago this year, when four Case brothers began fashioning knives and selling them along a wagon trail in upstate New York.
Bose has designed several patterns for the Case product line, including the Sowbelly, Saddlehorn, Sway Back Jack/Gent, and the recently introduced BackPocket®.
Bose's collaboration with Case serves to bring the custom knife market to the masses, says Fred Feightner, Case communications manager. "If you wanted to buy a Tony Bose knife, you might wait for years and spend several thousand dollars," he says. But for more than 15 years, Case has made Bose-designed knives available and affordable. "And along the way," Feightner says, "Tony has taught us a thing or two and made us better knife makers at Case."
APPRECIATING THE TRADITIONAL
"A lot of these things I do are a blast from the past," Bose says. "I don't design knives; I bring them back from the grave." Bose's appreciation for history attracted Case to working with him, Feightner says. "Our commitment to the traditional folding pocketknife fits in with Tony's spirit," he says. The Sway Back Jack is one example. That style of knife dates from the late 1800s and the early 1900s, Bose says. "Nobody makes that anymore," he says.But Case does, and it remains a good seller, Bose says.
Sometimes, he'll take a frame from one knife and a blade from another to make a whole new, different knife. Last year, Bose combined two Old-World ideas — a Wharncliffe blade shape and a Trapper knife pattern. "It's a very handy blade for opening boxes or mail," says Bose, who carries this knife himself. "It's very useful and a popular pattern."
Once Case decides what kind of pattern Bose should do, he makes two knives. One is completely finished to serve as a quality-control knife. The other is, essentially, a skeleton, held together with pins so that Case design engineers can easily disassemble it, take accurate measurements, and make a test knife.
Such precision and quality are among the reasons that Case knives are treasured by knife collectors. Indeed, Case is known for its ardent collectors, and Bose understands completely. "I've been crazy about pocket knives since I was five years old," he says. "And with the first paycheck I got, from my job during high school, I went to the hardware store and bought a Case knife."
As a young man, he worked in a machine shop, where a fellow worker gave him an industrial hacksaw blade, from which, self-taught, he made his first two knives. "I just started, and I never did quit," Bose says. "And I never could make one that I was completely satisfied with, and I still can't."
Carol Davis is editor of Out Here.