Angling Art | Winter 2014 Out Here Magazine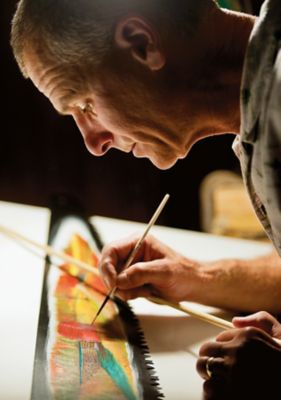 Dave Krupa occasionally uses unconventional canvases such as a two-person crosscut to paint pictures of earlier times or of fishing scenes.
Artist's muse is his other passion — fishing
By Noble Sprayberry
Photography by Steph Anderson Chambers
When David "D.P." Krupa was 5 years old, his father taught him to fish for trout in the streams near their mining community in the Allegheny Mountains. Some 50 years later, Krupa, retired from a career in criminal justice, still fishes. And, he also has more time for his second passion — art.
His work illustrates trout and embraces the nostalgia, history, and culture of rural Pennsylvania. "I love to paint the world in which trout live, because there's a funny thing about them," says Krupa, who lives just outside his hometown of Twin Rocks, Pa. "Usually where you find trout, you find a beautiful part of the world.
"They don't live in polluted waters or parts of the country destroyed by progress. They are in places that are usually very tranquil and clean. It kind of takes you back to a time when the earth was pure."
He calls his business Angling Art. He sells the work at art shows, mostly in Pennsylvania and Virginia. His website, www.krupaanglingart.com, also offers an introduction to his craft.
Limited-edition prints feature trout swimming in stone-strewn streams, or an angler casting below a bridge, or a detailed depiction of a fish and the flies used to catch them.
His "woodburnings" also have proven popular. He sketches an image onto a piece of wood, burns the drawing into the wood and then colors the piece with acrylic paint. As with learning to fish, he embraced art early on, realizing in school he had a skill for drawing.
"It seemed like one of those things that I've always had. I never considered myself an artist, and I never called myself an artist. I didn't want to insult the people who are really artists," he says. "I'm self-taught, and because I enjoyed doing it so much I found my little niche."
He retired in 2011 from the Pennsylvania Department of Corrections, where he managed the young adult offender program. Throughout his career, however, he spent nights developing his art. And for Krupa, art means far more than a product. Once gristmills and covered bridges dotted his home state, and the nostalgia for those times finds its way into his work.
"A lot of the places are disappearing," he says. "The gristmills and bridges are being torn down or abandoned, but I think they were such a beautiful part of Pennsylvania."
He has turned long, two-person crosscut saws into the canvas for detailed paintings of earlier times. Similarly, he painted detailed holiday scenes on the woodwork of an antique sled.
Angling images runs through much of the work, but the broader themes often capture the imagination of people introduced to his art at festivals, Krupa says. "It's really rewarding, because someone will stand there for 15 or 20 minutes and then start talking to you about it," he says.
"I love to do artwork that tells a story. You are able to touch someone in a special way, not only because it's art," he says, "but also because it reminds them of someplace special in their life."
Georgia writer Noble Sprayberry is a frequent contributor to Out Here.