The Potters | Summer 2014 Out Here Magazine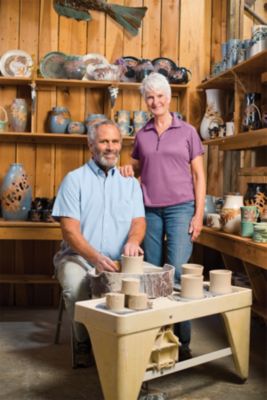 Bill and Judy Heim look to nature to create stunning beauty from clay
By Carol Davis
Photography by Mark Mosrie
Bill and Judy Heim had their early retirement all planned out. The two would spend their days in their newly built studio, creating bowls, vases, candle-holders, teapots, wall hangings, and other striking pieces. But a leisurely approach was not for this energetic pair. Instead of dabbling in pottery, the Heims order clay by the ton. Or three. And they work almost daily in their studio on their Lascassas, Tenn., farm, filling orders from gift shops, tourism centers, and craft markets, along with selling online through a wholesaling website.
With nature as their muse, the Heims create pieces in earth tones and decorate primarily with their signature leaves, made by Judy. Indeed, even their studio's name — Red Oak Pottery — is a nod to Mother Nature and Judy's love for leaves. "I've always been attracted to pottery with pressed leaves, flowers, and other plants," Judy says.
Some of the couple's pieces may look similar to each other, but they're never identical like those mass produced in a factory. In the Heims' studio, every cup, plate, and vase — everything — is shaped, decorated, and perfected, one at a time, by hand. Such precision and attention to detail might be tedious to some, but the Heims wouldn't have it any other way. Every single piece of pottery is a reflection of the love and dedication they have for their art.


STARTING RED OAK POTTERY
Bill and Judy each fostered their love for creating from clay long before they ever met. A visit to his sister in Chicago introduced Bill to crafting pottery about 20 years ago. "She was doing pottery and I thought it looked interesting, so I thought I'd give it a try," he recalls. He took classes and found that it was a nice diversion from his job in engineering. It also offered the chance to see a project through, from start to finish — a benefit that he never got from his career. "It would take years and years before we had the finished product of an airplane wing," he says.
Not so with his pottery. "Now, there's a completeness to it," he says. Some of Bill and Judy Heim's pieces may look similar to each other, but they're never identical like those mass produced in a factory. Instead, every cup, plate, and vase — everything — is shaped, trimmed, decorated, and perfected, one at a time, by hand. Judy's creativity in clay began in college as an art minor in which she took four or five pottery classes. "Because it was so expensive, I didn't continue with it after college," she says.
She went on to become a middle school teacher. Many years later, when a friend convinced her to refresh her skills and take a few pottery classes, it became an enjoyable hobby outlet, Judy says. "It's something to take your hands and make something useful and fun," she says. But those early projects didn't resemble anything like the beauty that's now showcased in their studio gallery. "We all started out making cat food dishes and potpourri dishes," she says, with a laugh.
Judy met Bill when he happened to be in one of the classes that she was taking, so pottery brought these two together, you might say. Once married, the couple designed and built a pottery shop with a showroom, and another building to hold their large kiln, at their farm. "We did this planning on retirement," Bill says. "We got all the equipment beforehand." In fact, they spent seven years gathering equipment and preparing to do their hobby up right.
They started off "throwing" — producing pottery with a potter's wheel — as a fun hobby for after work and on weekends, but it wasn't long before they decided to try their hand at selling it. "You reach a point when you've given enough to friends and family, and you have to get rid of the stuff," Judy says. So they started selling at weekend street festivals before graduating to juried shows, in which a committee judges, or determines, whether the work is quality enough to be accepted into the show.
The couple spent many years selling at juried shows, but the amount of time spent packing and unpacking began to wear on them. "You spend a lot of time in preparation for a show," Judy says, "and you can't work on producing more while you're at a show." So they decided to stop selling at shows and begin selling wholesale to shops and other retailers. At about the same time, in early 2005, the couple decided that they each could retire early and vigorously pursue their pottery passion. "We realized that we had enough funds to quit our day jobs," she says. "We got to spend more time in the shop."
Selling wholesale, they learned, has its own particular set of challenges, as well. "You have to be ready for someone to call and say they want 20 of something," Judy says. But they've become familiar with what their regulars want, so they usually have inventory ready. Besides, selling wholesale has given their schedule much more freedom than selling retail ever did. Judy has more time to show her prized Quarter Horse, and Bill can hit the road for his sport of long-distance bicycle rides around the country.


CREATING ART
The Heims' workroom in the studio has his-and-her sides. Bill spends most of his time on one side, where a potter's wheel sits with a mirror strategically placed on the wall behind it, enabling him to see every part of a lump of clay as he's shaping it into what he wants it to be. On the other side of the small room is Judy's space, which contains a trimming machine, a small potter's wheel, and racks of freshly-thrown items that are drying. Judy will pull pieces from these racks to begin carving and trimming.
The room is organized that way for a reason: Bill prefers to work at the wheel and Judy prefers decorating, which makes for good teamwork. "Right now, I throw only bowls," Judy says. "Bill is so good at everything else, so it only makes sense for him to do it. I like trimming. It involves detail, and I like the detail stuff."
The pottery process starts by taking clay that they've bought from a supplier and feeding it into the pug mill, which works all the air out of the clay and extrudes the clay in a cylindrical, sausage shape. Bill, who keeps records on the precise amount of clay each of their pieces takes, then cuts that clay to the appropriate length. On one particular day, for example, he was working on a large order of mugs for a special event, each of which started out as a length of clay 2⅜ inches long.
Using water and a sponge, Bill sits at the rotating potter's wheel plying each length of clay to the size, shape, and dimensions he wants. There's a bit of magic involved as a lumpy handful of clay quickly transforms into a recognizable mug as his skilled hands work the clay up and out to the correct shape and size. Bill frequently checks his work with a small ruler and makes adjustments so that each mug in this particular order is consistent. Even so, he can throw nine or 10 cups per hour.
Before pulling it off the wheel, he adds one last touch that the eventual mug user won't realize, but will appreciate. "I push down on the top of each mug to make it rounded to feel better on your lips," Bill says. The mugs will now dry overnight to become "leather hard," and ready for the detail touches that Judy likes.
She begins by checking the thickness of the mug's bottom and compressing it. Newly thrown clay contains high water content, and as it dries, cracks or gaps may appear, particularly when it's in the kiln, so Judy compresses the clay to eliminate those possibilities. She'll also refine each piece by trimming it, which means removing excess clay on the bottom so that the mug is not heavy and clunky, giving the mug a foot for aesthetically-pleasing "lift" and stability, and creating a stopping point for glaze. Judy also further smooths the edges during this stage.
She'll also look at each piece and decide how to decorate it, most likely with a traced-in leaf design — preferably scarlet oak, but she also works with the leaf shapes of silver maple and white oak with templates made from tracing around real leaves. Judy may also decide to craft some leaves from clay to press onto the piece, creating a 3-D effect.
Bill attaches handles to the mugs, and they'll continue drying for a few days before being loaded into the electric bisque kiln, which finishes the drying process and prepares the pottery for glazing. After bisque firing, Judy settles in for a week or two of staining her designs. She'll also apply liquid wax to the stained leaves and bottom of the mug — every part of the mug where she doesn't want glaze — because wax repels the glaze. Each piece is then dipped into a vat of glaze, which colors the pottery. The Heims focus on four earth-inspired colors: black, blue ash, sea green, and eggshell white.
After she's prepared a kiln load, they'll stack dozens of pieces onto specially made racks and slide them into the large, walk-in, gas-fired kiln that can reach more than 2,000 degrees. After "baking" for 10-12 hours, the pottery is allowed to cool slowly and naturally. Seeing the finished pottery for the first time is always exciting for the couple. "When you open the kiln door and see inside," Bill says, "it's like Christmas."


FEELING GRATITUDE
Even after 20 years, the couple's delight in creating pottery has not waned in the slightest. They continue to experiment with clay, fashioning unique wall hangings, tiles, and other one-of-a-kind projects, but they also look forward to filling orders for their retailers. That's because they know that their specially handcrafted art pieces are going to be appreciated, and that means a lot to Bill and Judy.
"I've told people how honored I am that they want something in their home that I've created," Judy says. "It's (nice) that someone appreciates what you do … especially when they don't have to spend their money on you."
Out Here editor Carol Davis' only pottery experience is a very ugly ashtray she made in fifth grade.