Taste of Success | Summer 2014 Out Here Magazine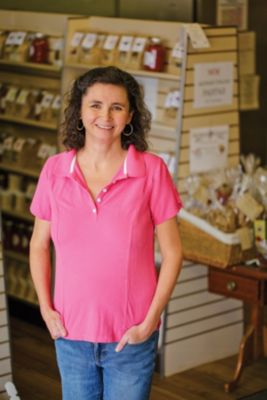 Rebecka Fleischman found her health improving when she replaced processed foods with more natural choices. Rebecka's business helps support not only her own family, but nearly a dozen other local growers from whom they buy produce during the growing season.
Soup's on for this accidental, but thriving, rural business
Rebecka Fleischman vividly remembers being a 10-year-old, standing on a stool over a large cooking pot, complaining to her grandmother that she couldn't wait to grow up and buy her food at the grocery store like everybody else.
She laughs at the memory, and the irony of it, too. She's still cooking, but she's definitely not complaining. Rebecka and her husband, Allen, have created a business called Soup-N-More, where customers buy the food that she produces — dried soups, grains, spices, dressings, dips, and cookie mixes. Indeed, she and Allen grow about 80 percent of what they eat on the Tekamah, Neb., farm where Allen grew up.
The seeds for Soup-N-More happened quite by accident. In 2008, Rebecka experienced a mysterious illness that almost killed her. Minor strokes, chronic migraines, pancreatitis, "the whole 9 yards" occurred. A baffled doctor suggested she eliminate monosodium glutamate, or MSG, a flavor-enhancer used in foods, from her diet, which, in turn, prompted her to get rid of other possible triggers.
She began replacing processed food with more natural choices by cutting chemicals or making some kind of change the first day of every month, she says. She accomplished this by growing and preserving most of the food herself. She even burned up two dehydrators before finding one that could withstand the workout she gave it. It worked. "I now have the same energy level that I had when I was in my 20s and 30s," says this high-energy grandmother.
A BUSINESS IS BORN
A few months later at Thanksgiving, the Fleishmans' oldest daughter asked what to do with leftover turkey. Rebecka combined noodles, dehydrated carrots, onions, celery, and spices in a plastic freezer storage bag to combine with the turkey for soup. The soup mix earned raves.
"That's what started us making the mixes for ourselves and our family and friends," Rebecka says. Besides the original six soup mixes, she created a pancake mix, a beer bread, and a cornbread mix, using flour from wheat they had grown and ground themselves. After the homegrown flour was featured in the Omaha World-Herald newspaper, some 200 people called seeking the flour.
"Allen and I looked at each other and said, 'I think we have a business …' with a great big question mark," she says.
They decided to test the waters by selling at the Applejack Festival in Nebraska City. The first day, they sold everything they had. Jubilant, they implored family and friends to work through the night to help them prepare more products for sale at next day's festival. They nearly sold out again and made a handsome profit that weekend.
That weekend, Soup-N-More and its subset, Granny's Grains, was born.


GROWING THEIR COMPANY
Rebecka often tinkers with recipes from pre-1960s cookbooks because those usually didn't include processed foods. About four times a year, 15-20 people attend a taste testing at the Fleischmans' home. For a time, they used a converted family room for a commercial kitchen, which they soon outgrew. With a loan from the Center for Rural Affair's Rural Enterprise Assistance Program, they purchased and renovated a building in Lyons, Neb.
"We got on YouTube and watched videos and we learned," she says about the renovation. The building includes a small storefront where they sell their products as well as that of other producers in the area who follow the same organic practices. "We now make our living off of our 40 acres," Rebecka says. She, Allen, and their daughter Allison work the business full time.
They also help support nearly a dozen other local growers from whom they buy produce during the growing season, and they employ four or five people during harvest to help with dehydrating. Soup-N-More has grown to offer 11 soup mixes, dips, and sauces, while Granny's Grains offers mixes for flavored breads, biscuits, cookies, and cake.
"Our soups are all designed for the crockpot and have no added salt," she says. "We have people tell us the mixes taste like their grandmother's food."
Nancy Dorman-Hickson is a Birmingham, Ala., writer.