Featured Articles from the Summer 2014 Issue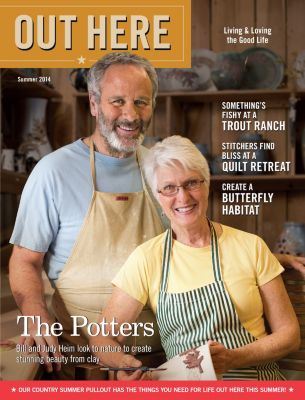 Out Here Magazine - Summer 2014
The Potters
Bill and Judy Heim had their early retirement all planned out. The two would spend their days in their newly built studio, creating bowls, vases, candle-holders, teapots, wall hangings, and other striking pieces.
But a leisurely approach was not for this energetic pair. Instead of dabbling in pottery, the Heims order clay by the ton. Or three.
And they work almost daily in their studio on their Lascassas, Tenn., farm, filling orders from gift shops, tourism centers, and craft markets, along with selling online through a wholesaling website.
With nature as their muse, the Heims create pieces in earth tones and decorate primarily with their signature leaves, made by Judy. Indeed, even their studio's name — Red Oak Pottery — is a nod to Mother Nature and Judy's love for leaves.