Prizewinning Pedigree | Summer 2014 Out Here Magazine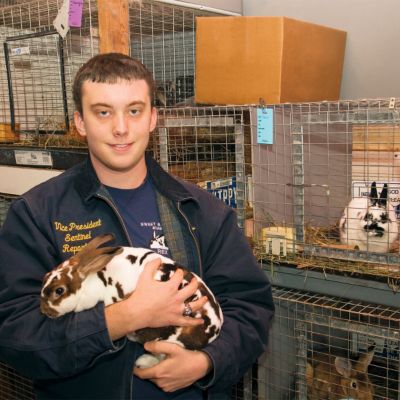 Brook Creager and his 4-H rabbits have won numerous ribbons at county, state, and national rabbit competitions. He's also an FFA member.
When it comes to raising rabbits, Brook Creager is a champion
By Leah Call
Photography by Sam Householder
When Michael "Skip" Creager, of Angola, Ind., encouraged his young son, Brook, to raise and show 4-H rabbits like he did as a youngster, he never could have anticipated how far Brook would take it. Brook and his rabbits took numerous honors at county, state, and national rabbit competitions. But the pinnacle of his rabbit-raising occurred when his Rex rabbit, named Hilt's Spartan, won best of breed out of 23,000 rabbits at an American Rabbit Breeders Association (ARBA) competition in 2012.
Breeding and raising such prizewinning rabbits took a bit of trial and error before the Creager family found the right combination for their championship stock. "I started out with Californians and New Zealands. Then we decided to try a different breed, so we moved on to Rex," says Brook, who first won champion ribbons in the show ring locally, then successfully competed at the state level in Indiana, Michigan, and Ohio.
"And then it grew to where we started showing on a national level," he says. "The first national show we went to with our Rex rabbits was in Indianapolis two years ago." After taking home several champion ribbons for his Rex rabbits, Brook has decided to try raising other breeds, including Tans. Tans, he explains, are a much more energetic breed than the Rex, whose calm temperament and silky fur make it his favorite breed. "Rex are laid back and you can bring them in the house, more like a cat, for a pet," Brook says.
The Creagers later added Polish rabbits to the family's official ARBA rabbitry, named Sweet Backyard Bunnies. Introducing new breeds to his rabbitry enabled Brook to introduce new breeds to his local 4-H club and county fair. The Creagers' 20-plus bunnies may be a bit spoiled in their 12x12 insulated, temperature-controlled shed. Keeping them in a stable temperature, however, helps to shorten the time frame in which they molt, or shed large amounts of hair, once or twice a year.
These pampered rabbits also enjoy daily fare that includes a base of professional rabbit feed, one tablespoon of calf manna, one tablespoon of rolled oats, and a handful of fresh hay fed twice a day to help with digestion. To breed champion stock, Brook pays particular attention to pedigree. He also looks for color, shape, and markings.
Brook developed his knack for raising champions through online research and discussions with experienced breeders. "It was kind of a learn-as-you-go thing," he explains. "When we would go to shows, we'd talk to other breeders and get advice on what to do and how to do it." His family supports him in all his activities, especially the rabbits. "It is not just my thing, it is a whole family thing," he says. "My mom and dad help out with raising the rabbits and my brother is now getting into 4-H, and he is starting to help take over the rabbits."
Now that he's headed to college, Brook is passing the rabbit rearing torch to his brother Zacchaeus, but his experience with rabbits has made a lasting impression. "I think I will continue having rabbits throughout my life," he says. "Rabbits are caring, compassionate animals. They thrive on the love and affection you give them, and that is how they will treat you back."
Leah Call is a Wisconsin writer.