Prevent Lyme Disease | Summer 2014 Out Here Magazine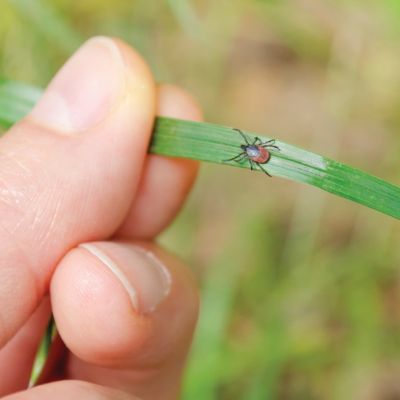 Create a tick-safe zone in your yard
By Dr. Kirby C. Stafford III
Photography by iStock
Most Lyme disease cases — which can be potentially life-threatening — are acquired from ticks picked up during activities around the home. The amount of ticks you have around your yard depends on how suitable the environment is for them and their animal hosts, particularly white-tailed deer, white-footed mice, and birds. Larger properties with woodlots and underbrush are more likely to harbor ticks than a smaller property consisting primarily of lawn.
The blacklegged tick, for example, inhabits densely wooded areas and unmaintained transitional habitat between woodlands and open areas. On a lawn, most ticks are located within 3 yards of the lawn perimeter, particularly along woodlands, stone walls, or ornamental plantings. Groundcover vegetation also can harbor ticks.
Because the lawn perimeter, brushy areas, woods, and groundcover vegetation form the high-risk tick zone, the best plan is to create a tick-managed area around your home that your family uses most frequently. This includes walkways; areas used for recreation, play, eating, or entertainment; the mailbox; storage areas; and gardens.
These tips can help keep ticks at bay and your family and pets safe:
Keep grass mowed.
Remove leaf litter, brush, and weeds at the edge of the lawn.
Restrict the use of groundcover in areas frequented by pets. Doing so gives ticks less places to live, as well as rodent hosts.
Discourage rodent activity by cleaning around and sealing up stone walls and small openings around the home.
Move firewood piles and bird feeders a way from the house. Birds are frequent hosts for immature stages of ticks.
Keep dogs and cats out of the woods to reduce ticks brought back into the home.
Use plantings that do not attract deer, which are tick carriers.
Move children's swing sets and sand boxes away from the woodland edge and place them on a wood chip or mulch foundation. Children have some of the highest rates of tick-borne Lyme disease, so it's imperative to create a safe play zone for them.
Trim tree branches and shrubs around the lawn edge to let in more sunlight. Increasing sunlight and lowering humidity renders an area less hospitable to ticks.
Create a 3-foot or wider wood chip, mulch, or gravel border between lawn and woods or stone walls. Properly maintained each year, the barrier may allow fewer ticks to migrate from the woodlands into the lawn. It also serves as a visual reminder that people who cross the barrier may be at a higher risk of getting ticks.
Widen woodland trails so you don't brush up against foliage.
Taking a few preventive steps to keep the tick population down around your home can mean the health of your family.
Dr. Kirby C. Stafford III is a medical-veterinary entomologist with the Connecticut Experiment Station.