Pedal Power to Solar Power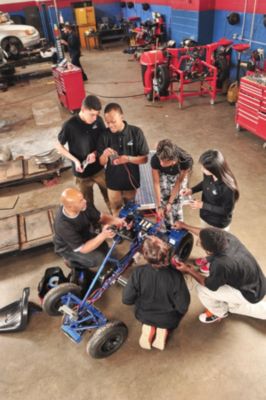 Greg working on a go-cart with a group of his students
Greg Rice teaches valuable lessons while making learning fun
By Colleen Creamer
Photography by Vasiliy Baiuk
Greg Rice believes in growing the possibilities of solar power, re-directing the decline in American manufacturing, and helping kids to embrace learning. All at the same time. And all while having lots of fun.
The centerpiece for Rice's ambition is a simple, adult-sized pedal go-cart that you can find at just about any Tractor Supply store. With Rice's "Go-Cart Project," high school students in his hometown of Rochester, N.Y., retrofit the off-road vehicles to run off a battery juiced up by the sun's energy. Once completed, the solar-powered go-carts have a potential range of 400 miles and a cruise speed of up to 18 mph.
It might be a local initiative now, but bigger plans are afoot. "Our ultimate goal is getting the kids engaged using the TSC carts and then getting them distributed to schools throughout the country," Rice says. "Hopefully, we can develop a national competition." Rice, through his company Vance Curves, which makes metal art, has collaborated with a team of technicians, engineers, and grant writers, to put STEM learning — a project-based learning technique in many American schools that integrates science, technology, engineering and math — in seven Rochester schools, so far.
School superintendents, educators, and principals across the country are embracing creative STEM projects to help address America's manufacturing decline. The hands-on engineering of Rice's project engages high school students in science and engineering, and the switching from foot power to solar gets them interested in leaving the earth a little cleaner than when they found it. "This is an emerging green industry, and we've got to start somewhere," Rice says. "What I realized was, if we waited for the big car companies to do it, well, it's going to cost millions and millions of dollars to understand this stuff, and you know we can do it for a couple of thousand bucks."
The adult-sized pedal go-carts are perfect for the project because the nuts-and-bolts design was practically built to be retooled, Rice says. The go-carts can be rebuilt to be powered in a number of ways, including gas and electric, but solar energy is Rice's passion. "I will go and talk to anybody about it anywhere," he says. "My background is engineering, along with my love of mechanics and the ability to build steel products. When you put that combination together in a comprehensive project, it compels students to invest time and effort."
The Go-Cart Project also required the expertise of some of Rice's friends. "I went to all the smartest people I know and asked them, "Okay, how do you make this work?" he says. "I was learning; the kids were learning."


SEEKING SUCCESS
If the project does go nationwide, Rice has a good prototype with the TSC go-cart, but that wasn't always the case. Three years ago, when Rice first approached Rochester schools about the project, he started with little "razor" go-carts, but they proved too small, requiring solar panels to be packed in a trailer behind the pint-sized vehicles.
The first year, he and students got the razor go-carts to "go." The second year, they got them to "go a little faster," and the third year they began using the TSC carts, which solved many of the mechanical issues and certainly the size issue. "I said, 'If this is going to be realistic, then it's got to move me,' and I'm not a little guy. I have been driving it all over the city of Rochester," says Rice. "I was at a market here during the summer, and I was there for like eight hours because people couldn't stop talking about it."
First, though, Rice got an education from the school of hard knocks. He bought inexpensive, but large and unwieldy, solar panels that wouldn't hold enough power. "We determined that the panels we were using just didn't generate enough power, so then I had to go and spend the big bucks, $1,000 on one panel," says Rice, with a laugh. One goal for Rice and collaborators is to expand the project throughout the region and to form a league that works on the same model as NASCAR.
Environmental sustainability is important to Tractor Supply, and we applaud others who feel the same way. That's why we're regularly featuring some of our customers and friends who are good stewards of the land. For more information on our Stewardship Program, click on Environmental Sustainability in the About Us section at the bottom of the TractorSupply.com homepage.
"We will not be racing for speed, but we would like the ability for the different schools to have a reason to come together to show what each school has built and accomplished," he says. "It opens up the opportunity for business, fundraising, and sales for the students to experience." The project aims at high school students because they are old enough to possess the tools to theorize not only about science, engineering, and math, but also finance.
"We talk about the economics of our projects," Rice says. "I will share the budget of what it costs to build, and we will talk about how we can sell or market our efforts to finance the next project and earn a living." "It gives them the ability to learn how to work as a team in a working environment. We record data and give presentations based on the work we have done," he says. "It just helps everyone."
Colleen Creamer is a Tennessee writer.