Patchwork Paradise | Summer 2014 Out Here Magazine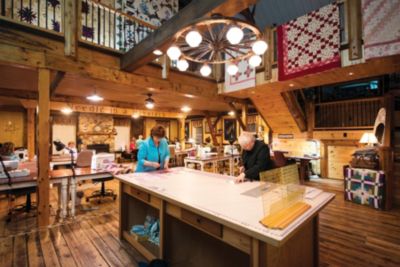 For quilters, a weekend retreat binds projects and passions
By Jodi Helmer
Photography by Andy Colwell
Not long after Jeff and Judy Fenton transformed a 1920s dairy barn into their country home, Judy hatched a plan to turn the unfinished barn loft into a creative retreat for quilters. "Quilting has always been about the fellowship and camaraderie of women working together and I wanted to create a place where that could happen," she recalls.
Judy, an avid quilter and the owner of Millcreek Sewing and Fabric in Erie, Pa., had participated in countless quilting retreats. Most were held in hotel ballrooms that were devoid of charm; at the end of the each day, attendees packed up their equipment and retreated to their rooms. "It was a fun getaway but it wasn't homey or personalized," she recalls. "I always left those retreats thinking, 'If I were going to do this …' or 'Wouldn't it be nice if …'"
One night, she dreamed about the retreat. She shared her vision with Jeff and he tore open a paper bag and started sketching a floor plan that included an open barn loft filled with sewing tables and cozy bedrooms with a handmade quilt on each bed. When she asked what he thought of the idea, Jeff told her, "We can make this work." The excitement was contagious: Jeff showed his sketches to contractors and Judy told the customers at the quilt shop who loved the idea and encouraged her to pursue her plans.
In 2013, almost a decade after she first dreamed up with the idea, Needle in a Haystack Retreat in Sherman, N.Y., opened its doors. During their weekend open house, 285 people turned out to explore the space — far more than Judy ever dreamed. "We had no idea we'd attract such a crowd," she says. The seven-bedroom rustic retreat offers classes taught by sought-after experts as well as popular "free sew" weekends where women can come together to work on projects of their choosing. It's a welcoming, friendly atmosphere where they can make themselves at home — and they do. "Women will often sit and sew in their jammies and slippers," Judy says.
In the evenings, guests often go out to dinner together or gather around the fire to watch movies. Of course, some women spend the entire weekend working on projects, sitting at their sewing machines until the wee hours of the morning. Over the course of the weekend, there is often an informal "show and tell" period where sewers talk about their projects and receive encouragement and compliments from others. "The projects are at all different stages and so diverse; some women are quilting and binding and others are working hand appliqués; all of the projects are at different stages," she explains. "It's so delightful to see women leave their worries behind and feel ecstatic about sewing."
FEELING OF COMMUNITY
Barbara Weaver, a longtime quilt shop customer, delighted in hearing about the plans for Needle in a Haystack Retreat when she dropped into the shop to purchase fabric; when the quilting retreat opened last spring, she was one of the first guests. "It's wonderful to have a concentrated time to work on a project," Barbara explains. "I can start sewing on Thursday night and work right through until Sunday without any interruptions."
Uninterrupted sewing time is just one of the reasons that Barbara has traveled almost 100 miles from her home in Emlenton, Pa., to Needle in a Haystack Retreat to attend five weekend retreats over the past 10 months. The overnight adventures have introduced her to new friends and new techniques. Two of the projects she made in onsite classes won first place awards at the Pennsylvania State Farm Show. "There is a feeling of community," she says. "I always come away (from a retreat) having learned something new and met some lovely women."
Barbara is such a fan of Needle in a Haystack Retreat that she has plans to return this fall with 16 members from her local quilt guild for three days of quilting and companionship. This passion for Needle in a Haystack is exactly what Judy hoped to inspire when she first envisioned the retreat. With the support of her husband, she takes great care to create an environment where women can learn new skills, devote time to their creative projects, and connect with others who share their passion. There are no meals to prepare, beds to make, or phones to answer. "We really pamper everyone when they're here," she says. The concept has proven so popular that the retreat has been full nearly every weekend since it opened.
While most of the women who sign up to spend the weekend at Needle in a Haystack Retreat are quilters, the retreat also attracts women who knit, crochet, or scrapbook. In the past year, the retreat has attracted guests from as far away as Alaska and Canada. While some quilters come in groups, others arrive solo — but never feel alone. In fact, two women who met at a retreat last spring became fast friends and booked another retreat together this fall. "I love that everybody is so happy when they're here," says Judy. "A bunch of women sewing together makes such a joyful noise."
Jodi Helmer is a North Carolina writer.