Katelyn Callahan: Showing Her 4-H Pride | Summer 2014 Out Here Magazine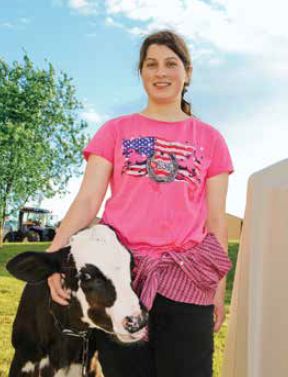 By Carol Davis
Katelyn Callahan, of Lancaster County, Pa., is a familiar face at Oregon Dairy's Family Farm Days, held each June in Lititz, Pa, where she volunteers as part of her 4-H community service activities.
"I love being around the animals and enjoy how excited visitors — young and old — get when they pet the animals," she says.
Katelyn, 18, knows a thing or two about animals. She's been in 4-H for seven years and she's raised or helped out family members with a steer, chickens, lambs, goats, and more.
Next year will be her last in 4-H, and Katelyn is grateful that her experiences in 4-H have helped her chart her future. "It's a wonderful opportunity for us who don't live on a farm," she says. "It allows us to participate and learn about farming."
"Someday, I hope to own an organic farm," Katelyn says. "Right now, I just have to settle for raising chickens and a steer at one grandparent's hobby farm and visiting sheep and meat goats at the other."
Carol Davis is editor of Out Here Magazine.