Just My Type | Summer 2014 Out Here Magazine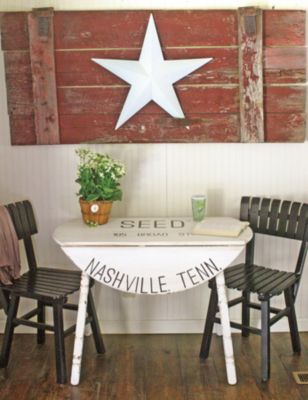 Create a shabby chic vintage sign table
By Gina Luker
Photography by Gina Luker
Painting furniture is a great way to upcycle old pieces found at thrift stores and yard sales and bring them back to life in a way that will uniquely fit into your own home.
Giving an old piece a new paint job doesn't take very long, but if you really want to create a special piece specifically for your home, then adding some typography is a great way to add personality to an otherwise plain piece of furniture.
This technique can be used on a previously or freshly painted table, as well as any type of furniture with a flat surface, such as a chest of drawers, cabinet, or even a barstool. Using old-school graph paper and a little paint, you can transform nearly anything into your own masterpiece.
Start with your furniture, and make sure the base coat of paint is in good condition. If your furniture is unpainted, sand it lightly, apply a coat of primer, and then apply two or three coats of a quality paint to ensure you have a good working surface.