'It Feels Like Family' | Summer 2014 Out Here Magazine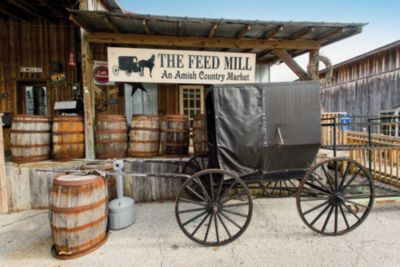 Darin Scheff bought the feed mill in 2005 and eventually turned it into a destination and community gathering place.
Nolensville Feed Mill is a communal hub for its town, and labor of love for its owner
By Hollie Deese
Photography by Mark Mosrie
Every town needs a Nolensville Feed Mill — a place to gather and grab sandwich on crusty, fresh-baked bread during the week, catch some live bluegrass after the Saturday country breakfast, or catch up with neighbors. Locals regularly swing by for some of the mill's Amish food goods, and faraway visitors make it a destination stop.
The resulting blend of small-town commerce and camaraderie is exactly what Darin Scheff had hoped to create when he bought the old mill, in the small community of Nolensville, Tenn., in 2005. It just took a few years and a lot of perseverance to get there.


'EVERYTHING WAS GONE'
The building had already lived a lifetime before Scheff was even born. The flour mill was established in 1890, but the original building burned to the ground in 1933. It was soon rebuilt with the intention to again mill flour. A decrease in flour demand caused production to shift to manufacturing feed, which is what it was still doing when Scheff bought in. But he soon converted the building to an antique shop, taking the lead from many of the other local businesses.
"Antiques were what the historic district of Nolensville was known for," Scheff says. "And so I put antiques in there and then I had an antique store like everyone else in the district." Things were going well, but when the American economy stalled a few years ago, so did Nolensville's. The other antique stores closed up shop, and all but one dealer pulled their wares from Scheff's shelves. "In a six-month period," he says, "everything was gone."
It was just three weeks before Christmas and Scheff decided to order some Amish groceries such as jams, jellies, and pickles to line his shelves. He sold out quickly, so he ordered another lot and got it in just days before Christmas. That one sold out, too. "I got excited, but I thought it might just be people in town visiting relatives who I would never see again," Scheff says. "After Christmas ended, I rolled the dice and bought more. Sure enough, people came in. January is the slowest month anyone can have in retail, but I was selling. So it lit a fire underneath me."
Scheff could see that the Amish food market was a winner, but he didn't have the money to transform the business again overnight. Any extra income went right back into the store, fixture by fixture, product by product. "One month at a time, I'd make some extra money, buy a cooler, and fill it up with something," Scheff says.
Now, coolers are stocked with homemade deep-dish chicken pot pies; Amish meats; cheeses, eggs, and dairy from a nearby farm; and chicken salad made onsite in small batches from preservative-free meat. Produce is piled high in season, with tomatoes that range from pink to yellow, and large hanging floral baskets have a fan base all their own. "It is funny how we have evolved, and I had no idea what that would be, to be honest with you," Scheff says.


TURNING POINT
A Los Angeles transplant, Scheff grew up in the entertainment industry. A songwriter in his own right, his mother was a casting director and personal manager in the film business, while his father played bass for Elvis Presley. His brother Jason is the tenor lead singer of the rock band Chicago. "I didn't really want to raise my kids in Hollywood so I came out to take a look and fell in love with Middle Tennessee," Scheff says. "I was smitten with it. From growing up in all the glitz and glam and then coming out to the country and being enamored with chickens … I just love it."
Once Scheff was permitted to get a sewer line to the historic district, a delicatessen became an integral part to the Feed Mill's success. Saturdays at the Feed Mill are a long way from those slow days with empty shelves, thanks to live music that ranges from bluegrass to Irish folk dance. "We had people dancing in here last week and I was like, 'I love my job!'" says Eve Jones, who works in the deli. Grabbing a sandwich or a bowl of chili or gumbo from the crockpot if the weather dictates is routine for many of the locals, she says.
Longtime Nolensville resident Kimberly Seals is usually at Saturday breakfast. She was first drawn to the store in search of local honey, which she has been buying there ever since. But on any of her weekly visits to the store she could be in the mood for rosemary garlic bread, homemade candy, jam, or cheese. "You get to know these people and it feels like family," Seals says of the Mill's employees. "It's that hometown feeling. Nolensville is growing a lot, so it's important that businesses like these get supported because you have to maintain that feel. It brings the flavor out. I walk in and I feel like I am at home."
An adjacent building houses antique and rustic furniture for sale, including the same kind of expansive farm tables where diners can eat one of the deli's famous sandwiches. Chicken salad with pecans and grapes or cranberries is a favorite — Brenda Files makes between 200-300 pounds a week from the small kitchen in the back, passing on her tried-and-true recipe to assistant Christina Jowers.
And "The Buggy Wheel" is the No. 1 seller, piled high with smoked turkey, baby Swiss cheese, lettuce, creamy mayo, and Amish jalapeno strawberry jam on fresh-baked bread. "We get a lot of visitors, people driving up from Alabama, Arkansas, Georgia, Kentucky, especially for the chicken salad," says employee Andrew Shorter.
Fridays are another big day at the Mill, because that's when Esther Schlabach and her daughter Sharalyn Schlabach drive nearly an hour and a half from Vanleer, Tenn., to deliver dozens of loaves of wheat and white bread, sourdough, rosemary garlic, dinner rolls, cinnamon rolls, orange juice cake, blueberry muffins, sticky buns, cinnamon raison bread, fried pies, banana bread, and pumpkin rolls. Many times, people are buying them as fast as they unload.
As well as the Feed Mill is doing, the work will never be done, as far as Scheff is concerned. A creek runs behind the building and between that and the large shady trees, the place is prime for some outdoor seating. "My goal for this year is to build a big, covered deck," he says. "If I could just sit out there and listen and look, I'm happy. There is something about that I never saw growing up."
Hollie Deese is a writer in Gallatin, Tenn.