Healthy Harvest | Summer 2014 Out Here Magazine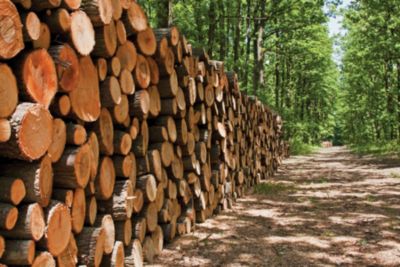 The first rule to selling timber is to take your time: a forest takes a lifetime to grow, but only a signature to lose.
Don't sell yourself — or your trees — short to timber buyers
By Stephen Bishop
Photography by iStock
Patience is a virtue when selling timber. Trees may take anywhere from 20 to 200 years to reach harvestable size. Usually, selling timber to the first man who knocks on the door offering a sum of money is a bad idea. Once a landowner signs away the timber rights, that man will probably resell them for twice the price. The first rule to selling timber is to take your time: a forest takes a lifetime to grow, but only a signature to lose.
Ask your local service forester to walk over the tract with you. Service foresters are employed by your state forest service and can provide advice on anything from maximizing forest growth to selling timber and replanting after harvest. Oftentimes, service foresters can create a forest management plan for little or no charge. The plan will give you a rough inventory — age, species, and quality of trees — and a timeline for forest management actions, such as thinning, prescribed burning, and harvesting.
Talk to your service forester about how your timber should be harvested. Controversy surrounds clear-cutting, and some timber buyers know this. They'll gladly perform a "select cut," as if they're doing you a favor. But select cuts are often nothing more than "high-grading," a practice in which loggers cut all the high-value trees and leave the junk. Unfortunately, a crooked tree won't grow straight, and a hollow tree won't suddenly become solid. Leaving those low-quality trees is like leaving weeds in a garden. In many cases, you'd be better off cutting down everything and providing an even playing field for the future forest. Of course, clear cuts are ugly and can cause erosion on steep slopes. So talk over your options with your service forester.
Ask your service forester for a list of local timber buyers. Getting multiple bids for timber is the best way to ensure you're selling for market price. Most legitimate timber buyers will want to cruise the tract before submitting their bids. A timber cruise is a systematic inventory of the size, species, and number of trees on the tract. Cruising timber is as much an art as science, so be prepared to receive bids that vary in range. Usually, it's safe to accept the highest bid. Just be sure to check references and ask around about the high bidder's reputation. You don't want to hire the reckless crew who overbids and then cuts corners and makes a mess of your land.
When selling timber, have the terms and conditions recorded in a contract. The contract should spell out the expectations of the landowner and timber buyer. Your local service forester will probably have a sample contract, or you can find samples online. Pay close attention to how you'll be paid — in one lump sum or per ton of wood cut. It's usually advantageous to be paid upfront in one lump sum. If you're getting paid per ton, you'll have to either trust the logger or watch for how many loads leave your property and ask for scale tickets from the mill for each load. Some bad apples have been known to sneak loads off tracts at night, which is nothing less than stealing timber. In some locations, however, it is customary to pay per ton for lower-value products, like pulpwood. Just be sure to ask for scale tickets and keep an eye on how many loads of wood leave your tract.
If all this seems overwhelming, consider hiring a consulting forester. A consulting forester will mark your boundaries, cruise and advertise your timber, and oversee the bid opening and harvest process. In short, they'll do the work for you. Most will charge a percentage of the timber sale, but say you'll receive higher bids when you use their services. Many states also have cost-share programs for replanting with the hope that you'll sacrifice a little profit to replant or leave a few high-quality seed trees per acre for the future forest and future generations.
A former timber cruiser, Stephen Bishop works for his local Soil and Water Conservation District.