Good Groundwork | Summer 2014 Out Here Magazine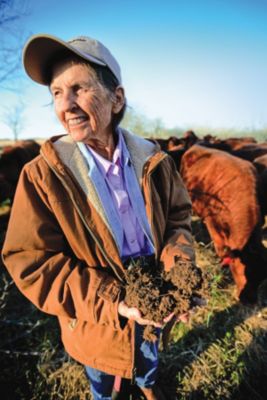 Strong, healthy soil is the foundation for a healthy crop, whether that crop is vegetables, flowers, lawns or hay.
7 steps to healthier soil
By Casey Kelly-Barton
Photography by Kevin Vandivier
Cattle rancher Betsy Ross knows her business from the ground up. Her grass-fed herd eats 5 to 6 tons of forage every day, which means the soil on her Central Texas range must be in top condition to support robust plant growth.
What Betsy has learned over two decades can work for anyone who wants healthier soil. In fact, it works so well that in 2003 she turned her experience into a second business, Sustainable Growth Texas, which helps homeowners, farmers, ranchers, and commercial clients, including the George W. Bush Presidential Library, to create and maintain healthy soil.
Betsy, who grew up on a West Texas ranch, is an encyclopedia of practical knowledge about soil. Start building better soil in your pastures, gardens, or yard right now, using her seven basic steps:
1. Stop spraying. "We're going after life in the soil," she says. "You've got to quit that other stuff unless there's a really good reason. No one wants to see their carrots eaten up by bugs, but that imbalance is a signal that you haven't gotten it right yet."
2. Add natural amendments. Apply compost or compost tea, unsulfured agricultural molasses, and fish or kelp emulsion at least four times a year to feed the soil microbes that make nutrients available to plants, Betsy recommends. "You want to put down compost in early spring, and then you're going to get a good organic fertilizer in late spring," she says. "The name of the game is to build the soil's organic matter. We want insoluble but available nutrients." "Look for very bacterial compost, or ask your garden store for the most fungal compost they have. Fish emulsion and kelp really feed the microbes. Kelp has a lot of potassium. Fish has calcium and potassium, but it also has some phosphorus in it, too. These things are delivered in a purer form so the soil biology doesn't have to spend so much energy working to break it down to food."
3. Air out your soil. "Aerate in early spring," she says. If you rent a lawn aerator, clean it off with peroxide to guard against diseases. You can also harness your weeds to do some of the work. "Those weeds aerate for you. They penetrate that hardpan (a layer of hard subsoil right beneath the topsoil) but they also leave what I call 'snack pack' farming: Most of them are annuals and when they fall down they leave carbohydrates and protein for the microbes to eat, and there's a hole for the water and air to get down so they fix compaction that way."
4. Mow smarter. Raise your mower to a higher setting and "leave the clippings there for the microbes."
5. Read your weeds. "Weeds are very good at indicating what the soil needs. When they die down they're going to release whatever they've been accumulating. We try to help that process by saying, 'OK, silver-leaf nightshade, you're trying to accumulate some phosphorus and a little bit of copper and boron, so we're going to put those in our compost pile in minute amounts and we'll take that job over.'"
She gives chickweed as another example. "If you have a lot of chickweed, you need to work on your available phosphorus-to-potassium ratio. Rather than eradicating, you're setting the table for what you want to grow with your soil fertility and your microbes. You're rescinding the invitation, so to speak, of these guys you don't want." And some weeds are worth embracing. "We're convincing people to let clovers come in. Some are just gorgeous. People have been taught that if you have clovers, you need to put nitrogen on. Well that's what clovers are doing. But they're also to-die-for beautiful."
6. Water wisely. "You do have to water some, especially if your soil is compacted," Betsy says. Find the right balance for your climate — too much water can drown out beneficial soil fungi, while too little will dry it out.
7. Check your work. "The No. 1 way to see if it's working is to see if calcium has become available. So if you look at the roots and they're white — and I'm talking about really white — then you know you've got that part down. White roots tell you, 'Ah, I'm doing something.'" Along with white roots, look for healthier plants and more diversity in your lawn or pasture rather than a monoculture or a big crop of one type of weed. "Every year, as your soil gets better, you have to do less and less, unless you have a bunch of kids that are all playing football and you're the neighborhood yard," Betsy says. "It depends upon your use."
Casey Kelly-Barton is a Texas writer.