Fish Farming | Summer 2014 Out Here Magazine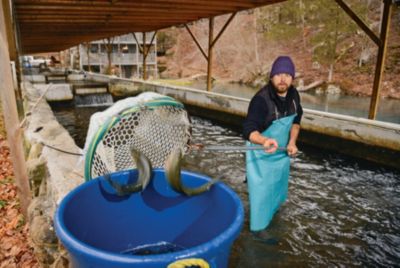 Fish at Pickett's Trout Ranch spend about a year in outdoor runs maturing to a marketable size before Steve Pickett harvests them.
Stephen Pickett grows and harvests a different kind of crop
By Noble Sprayberry
Photography by Billy Weeks
Rainbow trout thrive in the clear, cold spring water flowing from the base of Daus Mountain, where Stephen Pickett harvests 1-pound fish and fillets them into restaurant-sized portions. Within 24 hours, the trout land on diners' plates in one of about a dozen nearby Chattanooga, Tenn., restaurants that rely on Pickett's Trout Ranch to supply entrees for their menu.
For Steve, the ranch offers a career anchor in the life of an artist versed in jobs ranging from construction worker to barbecue restaurant owner. But, the trout farm represents more than just business. The spring boils out from the foot of a mountain on land that's been in Steve's family for generations. His father originally hatched the idea of using the spring for rainbow trout in the 1960s. And, his grandfather supported the plan and worked the ranch.
Now, Steve, 43, raises the fish — a species that does not live natively in Southeast Tennessee but does fare well in the cold spring water — in a scenic but isolated setting. "I just kept thinking that it's such a spectacular location that there's got to be a way to make something out of it, and the trout farm was the perfect scenario," he says.
Since 2004, he has raised trout from fertilized eggs to restaurant-ready fish. From cold winter mornings, where the mercury dips into the teens, to hot summer days, where the spring's flow narrows to a trickle, Steve tends to his livelihood. As with any farmer, the crop comes first. "It's every day," he says, "no matter what."
A FAMILY RESOURCE
Once, the spring was a scenic local resource, providing water to nearby coal mining camps, as well as to the homes of Steve's family. While attending college in Nashville, Steve's father, Winston, learned about a summer job with the Tennessee Game and Fish Commission. Training for the new employees included visiting a fish farm operated by a Minnesota man hopeful of raising rainbow trout in Tennessee.
"It looked like a good idea, and I went up to him and told him about the spring back home," says Winston, 72. "He told me to come back and see him the next day." The result was a plan for what would become the Pickett Trout Ranch. Beginning in 1963, the ranch opened to people who wanted to fish for trout. The Picketts also sold fish by the pound. And, some people just enjoyed the visit, including paying for feed to attract the trout to the surface of the pond created by a small dam.
"My dad used to laugh, because people were paying us to feed our own fish," Winston says. The ranch operated each summer until 1976. After the death of his father, Winston decided he did not want to juggle his education career with managing the farm. He closed the ranch in 1980.
A TROUT FARM AND A FUTURE
By the time he wrapped up college in the 1990s, Steve knew his criminal justice degree was a poor fit. "I did the ride-alongs, and I realized that police work meant dealing with people every day," he says. "That wasn't for me." After graduation, he moved from Tennessee to Colorado, where he worked a range of jobs, and for a time he attended art school. He has shown and sold his wood sculptures and paintings.
Eventually, Steve returned to East Tennessee and about a dozen years ago he made a decision. "I knew I needed to get something going, and I went to Dad and asked him what he thought about restarting the trout ranch," Steve says. Together, they poured the concrete for the runs where the fish mature. Alongside the stream, Steve built a two-story house complete with a porch overlooking the entire operation.
In the basement, fresh, clear spring water pumps into two concrete tanks, where the operation begins. Each year, Steve buys enough fertilized eggs from Washington to hatch about 50,000 trout. After growing for about three months in the two tanks, the young trout move to outdoor runs. About another year, however, passes before the fish mature to a marketable size. "They are about 1 pound when we harvest them," Steve says, "which makes about an 8-ounce fillet. That seems to be what the chefs here like."
Steve harvests fish most days, netting trout and moving them just a few steps to a building outfitted with a pair of sinks and two cutting stations. Typically, he works alone. "On an average day, I produce about 70 or 80 pounds of fish," he says. "That's about 140 fish a day." Then, he delivers the product, driving about 25 miles one-way to restaurants in Chattanooga.
"My goal was to have a business where I wouldn't have to leave, and where I could get the public to visit. Theoretically, I wouldn't have to fool with art shows or galleries. I could just have a little gallery onsite. We've accomplished some of that, and I'm still making art whenever I can." For now, the trout ranch keeps the artist hustling, and planning — Steve intends to produce packaged products such as smoked trout, trout dip, and trout caviar. "I'm as busy," he says, "as I want to be."
Georgia writer Noble Sprayberry is a frequent Out Here contributor.