Cultivating Creativity | Summer 2014 Out Here Magazine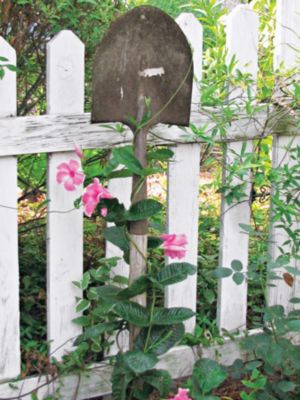 Turn a garden tool into a unique trellis
By Daune Pitman
Photography by Daune Pitman
Each summer, many of us want to increase the color in our yard with lovely flowers, and enjoy the floral lushness that the season brings.
It's so easy to get caught up into adding to our gardens that we sometimes run out of room. Or perhaps we want to add a visual focal point or two.
The solution? Think up!
Structures that allow vines and flowers to climb and move upward add character to either a small or large flower garden. It creates interest to add depth and height to a garden in unsuspected places.
But instead of purchasing a trellis, which is the usual choice for climbers, consider my practice of upcycling — using something that was meant for one purpose in a completely different way. At our home and yard, the unusual is the usual.
When my grandfather died, I received many of his gardening tools, plow, wheelbarrows, and other equipment. I use them to this day. But some of them have worn out, broken, or in some way have become unable to be used as tools.
We have found all kinds of ways to continue to use them in our garden, especially as trellises. This would be a fun project with any tool, but it makes them extra special that they were my grandfather's.
When the garden rake and shovel began to crack and break, we applied glue and turned them into trellises in one of the rose beds. The mandevilla, a climbing tropical with brilliant blooms, has taken up residence on the shovel these days.
With upcycling, anything that can be partially buried in the ground and have something planted at its base is fair game as a unique trellis, such as metal headboards or footboards, metal handsaws, push plows, small windmill propellers, and nearly anything in your backyard shed that has height.
If you're creating a trellis from an old garden tool, chances are the handle is made of wood. You'll want this to last for several seasons, so "plant" it using PVC pipe and crushed stone, which protects the underground wood from rotting because of soil and wood-eating pests.
Try this inexpensive, easy project. It adds charm, serves as garden art, and makes for a great conversation piece.
Daune Pitman is an artist who lives in Eastern North Carolina and writes about all things home and garden at cottageintheoaks.com.
MAKE A GARDEN TOOL TRELLIS
Supplies:
Long-handled garden tool — the older and more weathered, the better, so hit yard sales or flea markets if you have none
PVC pipe that fits the handle of your chosen garden tool
Crushed stone or small rocks
Directions:
1. Cut an 18-inch section of PVC pipe for each garden tool you will be turning into a trellis.
2. Dig a narrow hole where you want to place your trellis and place the PVC pipe into the ground.
3. Pack dirt tightly around the pipe.
4. Fill the bottom of the pipe with about 4-6 inches of crushed stones or small rocks.
5. Insert your garden tool handle into the pipe.
6. If the tool handle is wobbly in the PVC pipe, fill in the gaps with more crushed stone to make it more sturdy.