Setting Boundaries | Spring 2014 Out Here Magazine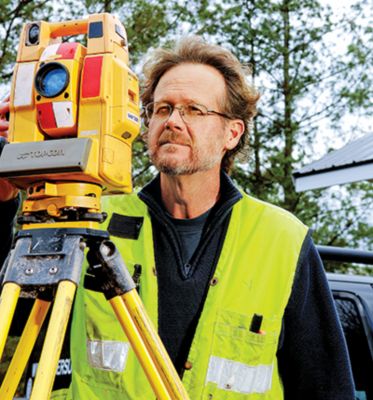 Landowners need to know their property's boundaries to avoid future problems with neighbors, advises surveyor Tim Guider.
Surveys keep property lines clear so homeowners know what's theirs
By Noble Sprayberry
Photography by John Johnston
An Ohio man in the 1970s planted trees along his property line, a boundary partly marked by an aging fence post. The trees were fairly mature 35 years later when the neighboring farmer decided to sell part of his property, says Tim Guider, owner of Guider Surveying in Marysville, Ohio.
The resulting disagreement over a property line, previously uncontested for decades, landed in court. "There was a lawsuit, and who knows how many thousands of dollars were spent fighting it," says Guider, who uses the story as a way to urge landowners to know their property boundaries. "The farmer who owned the land where the trees were finally gave up and deeded over the property," he says.
A landowner, however, can avoid similar disputes by following a simple rule, Guider says. "I preach to people that they should know what they're buying and to know what they own," he says. For example, in the farm country spread across the two Ohio counties where Guider works, grass lawns may encroach onto farmland. "Nowadays, very few farmers have fences, because they don't keep livestock," he says. "The farmer is only there a couple of times a year. And, it's never done intentionally, but the lawn creeps out beyond the property line."
Then, the farmer does not want to till the grass. And, the homeowner may opt to mow up to the first row of crops. "Unbeknownst to both of them, the grass keeps moving farther and farther out," Guider says. "I've seen situations where it might move 15 or 20 feet. That's all well and good, if neither landowner cares." Often, however, a landowner — or a potential property buyer — does care. While the reason for a dispute might change from property to property, a solution remains straightforward: A property survey, matching the official courthouse records to landmarks on the ground.
Nationally, land could be sold or transferred without a survey until well into the 20th century, leaving some confusing property lines, Guider says. As a result, hiring a qualified surveyor can prevent disputes. "I always encourage people to use a local surveyor, because the records and surveying practices are often unique to each county," Guider says.
Most states require testing and licensing of surveyors, and word-of-mouth referrals often provide the best guide for choosing a professional. "If a surveyor left a good impression on a neighbor, chances are that surveyor did a good job and will treat you well," Guider says.
Good surveyors will also have a solid understanding of local zoning ordinances and property laws, such as requirements for setbacks, road frontage, and the minimum acreage required for various projects, Guider says. In fact, Guider says he often coordinates with soil scientists to define the best locations for septic tanks or buildings. A surveyor can also help match land characteristics and construction goals with property boundaries. And, a surveyor does more than mark physical boundaries. The professional will also prepare the legal description defining a property, Guider says.
A survey can range in price from $200 to thousands of dollars, with the cost depending on a range of factors, such as geographic location, property size, and accessibility. The price may fall, for example, during winter months if the lack of vegetation makes a piece of land easier to navigate for the surveyor.
Georgia writer Noble Sprayberry is a frequent contributor to Out Here.