Room To Breathe | Spring 2014 Out Here Magazine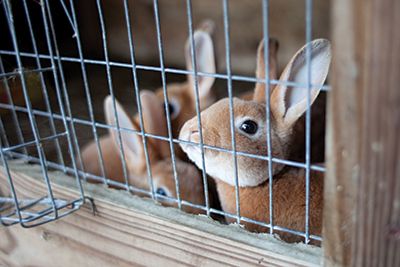 Rabbits' housing should be spacious enough for them to move around freely and tall enough for them to stretch upward.
Proper housing can ensure rabbits' health and vitality
By Hollie Deese
Photography by iStock
No matter if you are keeping a two-pound dwarf rabbit as a pet or maintaining litters of mid-sized American whites, there are some basic housing principals to follow that will ensure safety and health that can add years to the lives of your rabbits.
"Rabbits are very vulnerable," says Bob Bennett, author of Rabbit Housing: Planning, Building, and Equipping Facilities for Humanely Raising Healthy Rabbits. "Wild rabbits die from predators, parasites in the ground, flooding in the burrows," he says. "So when people have domestic rabbits and put them in rabbit hutches, they need to be very careful to make sure the rabbits are protected."
Because rabbits are so predator-prone, dodging not only land creatures such as foxes, coyotes, dogs, cats, skunks, and raccoons, but hawks and owls in the air, they need confinement housing that will keep the prey out as much as keep rabbits in. "If you have rabbit hutches outdoors, you need to put a fence around them to keep out dogs and other critters that can get in there," Bennett says. "And even snakes and rats."
In addition to a fence, the hutches themselves need to be constructed of mesh and wire with openings tiny enough to keep out the smallest of creatures — about 1 inch by 2 inches for the hutch, and a half-inch by 1 inch for the flooring. Rabbits should never be kept directly on the ground, so all-wire hutches with mesh floors are a necessity for a number of reasons. Not only can they dig their way out — and predators can dig in — but the soil has fleas as well as parasites that can cause toxicity in rabbits.
A wire floor allows droppings to fall out of the living area, and allows for good air flow. "Rabbits have thick, furry foot pads, so they do very nicely on the wire," Bennett says. "Putting them on solid floors with shavings or straw is a bad idea because, besides the manure, it can get damp, which is how rabbits get ulcerated feet. Not to mention they can get respiratory problems." Keeping food and water off the ground and hanging from the pen's wall not only gives the rabbits a bit more floor space to move around, but it also prevents their food from being contaminated by their droppings.
Rabbits' housing should be spacious enough to allow them to move around freely. Ideally, they should have one square foot of space per rabbit pound. So if your rabbit weighs 4 pounds, its space should measure 4 square feet. Rabbits also need adequate space overhead — at least 18 inches of height — to ensure enough room to stretch. Provide entertainment for your pet rabbit with ramps, wheels, and other forms of exercise equipment, but make sure that placing it in his pen still allows him plenty of room to move around.
And while the optimum temperature for keeping rabbits is 55 degrees, they can take large fluctuations in both directions. However, they handle the cold much better than they handle extreme heat. "Rabbits can take almost any amount of cold because the mothers make nests with straw and line it with their own fur that they pull," Bennett says. "And they have their own fur coat. What they can't take is drafts with rain and snow, and dampness." In fact, rabbit coats get thicker in the winter while in the summer they molt, or lose a good part of their fur. But if the temperature reaches more than 90 degrees, that's a big problem for bunnies. They don't have sweat glands and instead dissipate heat through their ears.
If they begin panting, they are in distress, so shade and ventilation for their housing are vital, not just to keep them cool, but to make sure they don't get respiratory problems. "You have to have good air exchange for rabbits, keep them off the ground, and keep them safe," Bennett advises.
Hollie Deese is a Gallatin, TN, writer.