Rescued From Abuse | Spring 2014 Out Here Magazine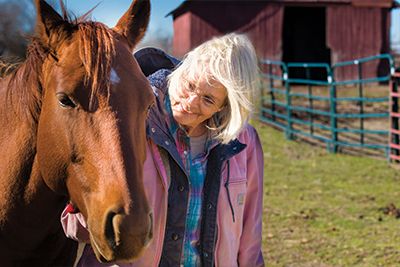 Molly Gunason's love for animals has helped many recover from abuse or neglect.
Dying livestock find their healer in Molly Gunason
By David Frey
Photography by Michael Hickey
When a friend asked Molly Gunason if she could lend a hand with some abused livestock in need of rescuing, she quickly agreed. On her 5-acre farm in Middletown, Ind., Molly had a few goats and horses, ducks and chickens, cats, and dogs. Why not take in a few horses in need of care?
When she came home from work, she found two 16-foot stock trailers rumbling up her driveway. On board were seven miniature horses, three ponies, five sheep, and a llama. They walked off the trailers into her back pasture and into her life.
Molly, who works full time at the Tractor Supply Co. store in Anderson, IN, found herself with another full-time job, nursing these malnourished animals back to health and building trust with creatures that viewed humans with more fear than love. "I have been an animal lover from the get-go," she says. "They can't look out for themselves. When you purchase or adopt the animal, that is your responsibility for the life of the animal."
Molly's new patients had been rescued from a nearby farm where the owner had accumulated hundreds of animals and left them to die. Animal control officers in biohazard suits found the survivors living amid the carcasses of 165 dead animals.
When her friend Jessica Bean, who worked for the Animal Protection League, asked if she would take on the hooved animals rescued from the farm, Molly didn't know quite what she was in for. The ponies and miniature horses were skin and bone, filthy, and matted. One ewe was so thick with wool, she couldn't stand. The llama wasn't faring much better. "You try to pet them or go up to them and they were just traumatized," she says. "They didn't know if you were going to hurt them. They didn't have a clue."
She and Jessica taught themselves how to shear sheep. Scraping by on just a few hours of sleep, she woke early to put out feed — different amounts for each of them — and returned in the evening to do the same. She brushed them, doctored them for thrush, dusted them for lice, and showed them the care and love they had long been lacking. Gradually, they warmed up to her. "Their eyes started getting brighter," she says. "They were no longer afraid to see you coming. They were proud to see you. It meant safety. And a little scratch behind the ear. They went from being in the far corner of the pasture to actually nickering at the fence when I came. That's what warms your heart. That makes it worth it."
In time, the animals rebounded. Most have found homes. One miniature horse is remaining with her at her farm she calls the Lazy G — "G" for Gunason; lazy, because, well, it's anything but lazy, she says. One pony is still looking for a home.
Chris Leininger, her manager at Tractor Supply Co., says he's amazed by the work she did. "Some of these animals were about a day away from death," he says. "By the time she was done with them, you wouldn't know there was anything wrong with them." That's the responsibility that comes with raising animals, Molly says. "They're not disposable," she says. "They're not like a pair of shoes or a shower curtain. That is your commitment. You must stand strong on that. You're there for the life of the animal."
David Frey writes in Gaithersburg, MD.