Puppy House Training | Spring 2014 Out Here Magazine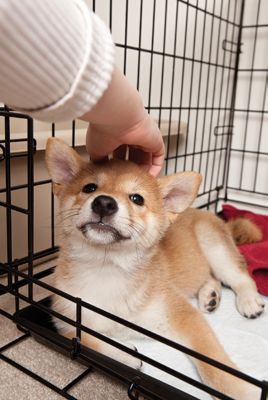 Your puppy wants to please you, so have plenty of patience when you're potty training.
Treats, praise, and patience are the keys to success
A new puppy in the house will be much more enjoyable if you teach potty training right away. All it takes is a few treats, praise, and a lot of patience. Crate training is one of the most effective ways of potty training.
If you're reluctant to use a crate because you don't think your dog would be happy in one, consider that a canine's natural instinct is to have a "den," which is his very own safe place. Trainers understand that a dog crate provides your pet a place to go, away from noise or stressful situations, so he will welcome a crate. They are not intended for storing your dog out of the way for long periods of time or as a replacement for supervision, training, and social time.
Start with a small crate where your puppy will stay for several hours at a time while she sleeps or takes a break. Your puppy should not be left in the crate all day; it should be used only for several hours at a time when your puppy is sleeping. If you have to be gone all day, a smaller confined area, such as a bathroom or pen, is best.
The most important thing to remember when training your puppy in any capacity is to praise and reward her when she does what you want. Pet her, play, or give her a treat — whichever method you prefer.
You must establish a routine as to when and where you want your new puppy to go potty. The more consistent you are in the first few weeks, the faster and easier she will learn.
Dogs do not like to soil their own space, so as soon as you let your puppy out of her crate, she most likely will have to relieve herself. Take her immediately to the spot you want her to go and tell her to "Go potty," several times. Give her 3 to 5 minutes to relieve herself and reward her if she does. If she does not, then return her to her crate and try it again in an hour or so. This will teach her to go when told.
Be aware of your puppy's smaller bladder capability and how frequently she needs to urinate or defecate. If you leave her in the crate too long and she cannot hold it any longer, this will set back your progress. You want to leave her in there long enough to make her want to go when she is let out and short enough for her to learn she can hold it for certain periods of time.
As the next few weeks pass, you will learn when your puppy needs to go and how often. General rule of thumb is when your puppy wakes, she will need to relieve herself, so take her out immediately. The need to go out will decrease as she gets older.
Establishing a routine early in her life and giving her lots of praise for doing what you want will make her want to please you, and this early training will bond both of you, as well. Don't give up. Make it fun for you and the puppy, and work at it every day.
Donna Thompson has been raising and training dogs for nearly 25 years.