Planting Seeds Of Knowledge | Spring 2014 Out Here Magazine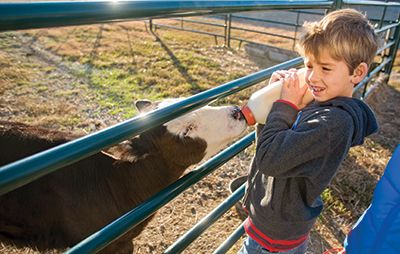 Owen Meyer's chore one day was bottle-feeding one of the school's calves.
Unique agriculture charter school cultivates a healthy crop of good students
By Diana West
Photography by Jeff Cooper
Going to school may be a chore to some kids, but for students at the Walton Rural Life Center in Walton, KS, it's what keeps them coming. As soon as they eagerly bounce off the bus, they pull on rubber boots and work gloves, and head to the barnyard out back.
Students from kindergarten through fourth grade work as a team, feeding, watering, and cleaning up after chickens, calves, pigs, goats, and sheep; mixing feed; delivering hay; and collecting eggs.
"Calves try to pull the bottle out of your hand," fourth-grader Jett Brackleen says, so now he keeps a firm hand on the bottle and shows younger students how it's done. First-grader Kaleb Willhelm is a willing student. "I like feeding the calves," he says.
Rotating weekly, one homeroom class performs these barnyard chores each morning before school begins. These young students are having so much fun with the animals that they don't realize they're using their math, science, and reading skills, as well. And they're also saving their school.
ALL FOR ONE
Eight years ago, when Walton School had less than 90 students, rumors began circulating that the smallest school in the Newtown School District would close. To the town's 238 residents, that would be devastating. Dr. John Morton, school superintendent at the time and Walton resident, knew the importance of the school to this small town whose central business district consists primarily of a library, bank, café, convenience store, railroad tracks, and an enormous flour mill. He suggested reorganizing it as an agriculture-themed charter school.
"We married the idea of an ag-tech charter school using project-based learning," the principal says. That means agriculture doesn't stay in the barnyard; it's presented in every classroom and activity. "It's in the center of an agriculture area," Morton remembers thinking. "Why not capitalize on it?"
School principal Natise Vogt, who was in her first year as principal at Walton, initially wasn't keen on the idea. "I knew nothing about agriculture," says the self-described city girl from Nebraska. She agreed to try it, though, when the school's teachers backed the plan 100 percent.
The school was approved to become an agriculture-themed charter school in spring 2007 — the first in the nation — and had to open that fall to keep its federal charter funding. Teachers from each of the eight classes — two kindergarten, two first grade, two second grade, one third grade, and one fourth grade — spent that summer learning how to incorporate agriculture into the classroom.
HANDS-ON LEARNING
Local farm families "adopt" classrooms to help students understand how they'll apply their learning in everyday life and how farming works with the whole community. Neal Williams, whose farm has cattle and crop fields, adopts two classes, usually kindergarten and fourth grade, and schedules three or four field trips each school year.
At two of his fields near the school, he demonstrates how farm equipment works, how far apart to plant seeds, how much, why it is planted a particular way, and how soils, erosion, and weather conditions can affect yield. Williams also brings students to his farm to learn about calving. "I explain the different stages cows go before and after calving," he says. "Also, the formula for figuring how much feed to give. Some receive more, others less." Students grasp what he teaches, he says. "I'm amazed at the intelligent questions from the children," Williams says.
Carrie Budde, who attended Walton School as a child, provides eggs in the spring that kindergarteners incubate and watch hatch in the classroom. She keeps the chicks during summer and returns them in the fall to a second grade that handles eggs. These community volunteers supplement what the classroom teachers teach.
In Derrick Richling's science class, first-graders watched a presentation called "The Needs of Animals" and sang along as they learned every animal needs water, food, and shelter. Afterward, they discussed how those three necessities are met in the animals' natural environment.
Last spring, students planted peppers in a hydroponic system that they designed. They also planted and harvested potatoes, carrots, corn, lettuce, and radishes in the garden that were served for lunch and snacks. Leftovers were composted to make rich soil for the greenhouse, where seedlings were started. The greenhouse is partially energized by a wind turbine that saves $500-$600 annually in utility costs. Students built miniature models of turbines and calculated how much electricity was produced and the cost.
Rhonda Roux, kindergarten teacher, guided her class in making lip balm from beeswax and soybean oil for a fund-raising event. "They learned how to measure, combine ingredients, and how heat changes a solid to liquid," she says. They also go on farm tours, read rural-related books, design and sew quilts, and pull, clean, and card wool from their sheep.
EXCELLENCE IN EDUCATION
The unique curriculum was under the microscope the first few years, Vogt says. "We had to prove that what we were doing was working." Enrollment has more than doubled, reaching a high of 186, with some students coming from 30 miles away. The school plans to add a second third-grade class this school year and an additional fourth-grade class next school year.
Children in Walton receive first priority in attending the school, followed by residents of the Newton School District, and then those out of district. The waiting list for kindergarten goes through 2018. "It's definitely a drawing factor," town Mayor John Reed says, noting that people are interested in moving to Walton to ensure their children will attend that school.
The unique teaching method appears to be paying off. Walton Rural Life Center was a finalist for the Intel School of Distinction in 2011 in math — one of only three elementary school finalists in the country. The school also won the Governor's Award, which ranks the school among the top 5 percent in Kansas.
The formula for such success? Outstanding teachers, strong community support, and the hands-on, project-based learning that allows students to understand concepts, the principal says. "It makes sense to them," she says. Test scores are only one measure of success though, Vogt says. More importantly, she says, "The kids are excited to come to school."
Diana West is a Missouri freelance writer.