Keep Your Horse Safe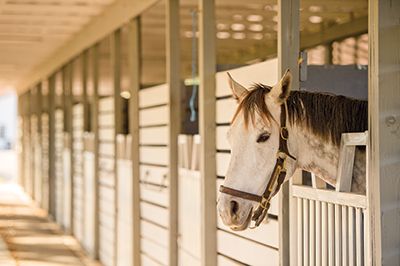 Little things, such as keeping shovels, rakes, and pitchforks put away or checking your fencing for protruding nails, can protect your horse from injury.
Prevention is the key at home and on the road
By Beti Spangel
Photography by Tractor Supply
A safe environment is as important for your horse's well-being as proper nutrition and exercise, and these preventive steps offered by Polly Haselton Barger, program director for the Certified Horsemanship Association in Lexington, Ky., will help keep your horse safe — both at home and while traveling.
Walk your fence line regularly. Wooden fencingis prone to broken boards and protruding nails. Electric wire and poly tape fencing can droop and needs to be tightened regularly. Reset sagging posts and reinforce corners.
Make sure feed room doors close securely and grain bins are locked. "I'm a big believer in keeping feed under actual lock and key," Polly says. "The hazard is not just the horse that gets into the feed room, but could be from some well-meaning neighborhood kid who comes over and wants to give the horse some grain."
Check electrical wiring. Check all wiring, but particularly that to a heated trough or automatic waterer, she says. Encase wiring in conduit to prevent exposure to elements and gnawing animals.
Check for and remove birds' nests near fixtures. Barn swallows like to build nests on top of lights because that's where the bugs are, but they make a prime fire hazard.
Knock down cobwebs. Dry, dusty cobwebs act as an accelerant in barn fires.
Monitor hay for internal heat. Hay can be combustible, so, if possible, store it in a separate building from your animals.
Park tractors, trailers, and other large equipment away from your horses. "If it's something a horse can hurt themselves on, they will," Polly says.
Keep things tidy. "Even in the nicest of barns, sometimes pitchforks, shovels, and rakes are scattered around and not put away," she says. "Tack often isn't put away properly, which creates a hazard that people and horses can trip over if left lying in an aisleway."
An effective way to evaluate your horse's home for hazards is to bring in a fresh set of eyes.
"It's a good idea to have an outside person come and look around once in a while," Polly says. "I think we all become blind to certain things in our environment because they're always there, so we just don't pay attention to them. If it hasn't become a problem, you tend to not notice it after a while. A fresh viewpoint can be a big help."
Travelling with your horse presents its own set of safety concerns, Polly says, the biggest being biosecurity. "There are certainly rampant diseases that go around show grounds, boarding facilities, and places where many horses come from a lot of different areas," she says. "I would be asking a prospective facility how close my horse would be stabled to other horses."
Also inquire about water and feed sources for horses.
"Ideally, you'd want your horse to have his own water supply and not be drinking out of a common watering supply," she says. "Some places feed in rolls, with lots of different horses. I would want the food and water to not be shared in a group setting. The best prevention is bringing your own. If you can provide your own water and feed, your horse is much more likely to drink and eat in a normal way."
Take a look around the stall or corral where your horse will be housed and make sure there are no jagged latches, damaged fencing, machinery, or other items that can injure your horse.
A little prevention on the front end, Polly advises, will keep your horse safe and sound.
Beti Spangel, of upstate New York, specializes in writing about horses