Go Natural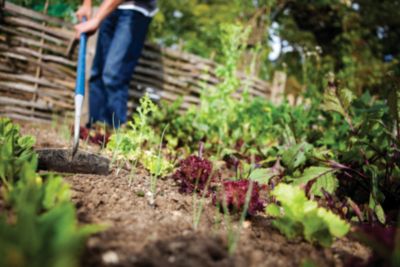 Good soil, full of organic matter, will produce healthy, production, strong plants.
5 steps to gardening sustainably and naturally
By Peter Fossel
Photography by iStock
"Mikey likes it!" Those words from an old cereal ad were shouted from my organic gardens where third-graders were visiting one morning. A youngster had just sampled some fresh broccoli.
"Yuck!" his friend declared, but the first boy went back for another bite, and another. Then a raw carrot. And therein lies the first lesson of fresh, organic produce: The stuff just tastes good.
If you grow it right, they'll eat it. And by "right," I mean not just right for the plants, or your health, but right for our mother earth and her creatures — right for those who live downstream, right for your doctor bills, right for your waistline, and your pocketbook, and the list goes on.
It all comes down to sustainable gardening. This means growing a garden that not only does no harm, but benefits everything it touches. Much of that stems from growing organically.
FEED YOUR SOIL
Start by feeding your soil all the organic matter you can find: Leaves, grass clippings, pulled weeds, straw, rotted hay — whatever you have or can get from neighbors. Kitchen leftovers, except meat, are excellent.
As all of this material decays, it creates a feast of nutrients, minerals, microbes, beneficial bacteria and fungi — all of which produce some of the healthiest, most productive, and beautiful plants you'll find anywhere.
This organic matter may be laid directly on the soil between garden beds and rows, but this may not be as visually handsome as you like. In that case, make a compost pile with it and turn it over every few days. The resulting compost is what they call "black gold" for a garden.
I also get free autumn leaves from landscape contractors to bury my gardens in fall. These not only decompose over winter, but leave enough to rake aside into paths in spring — and they attract earthworms by the thousands. Worms are one of the best components of a sustainable garden because they digest organic matter, and aerate and fertilize the soil while you're taking a nap.
AVOID CHEMICAL FERTILIZERS
These can destroy an earthworm population. Instead, organic matter and compost are better choices for sustainability.
Chemical fertilizers are a drug of sorts — an instant "fix" that helps destroy the very thing you're after in a sustainable garden; that is, the priceless "micro-herd" of microscopic life that makes organically-rich soil so valuable in the long haul.
Chemical companies long boasted that the compounds needed for plant growth — Nitrogen (N), Phosphate (P), and Potassium (K) — were the same, whether they came from chemicals or compost. And this is true. But the countless nutrients and minerals found in organically-rich soil, needed so badly for our bodies' health, do not come from chemicals and never will.
AVOID CHEMICAL PESTICIDES
Pests are predators; they go after the weak and the stressed, but plants fed a diet rich in decaying organic matter are anything but that. They are healthful and sound. It all sounds odd, but it works. Mind you, you will get pests now and then, but the richer your soil, the fewer you'll get. And these can be dispatched by hand, by covering plants with floating row covers, or through other benign methods which won't hurt friendly insects such as honeybees or preying mantises, and won't degrade your backyard environment.
I discovered this more than 20 years ago after I took the farm organic. A neighbor came over to ask what I did about Colorado potato beetles, which were devastating his crop.
"About what?" I asked. He quickly checked my potato beds, and found only healthy leaves and blossoms. "Where's all the beetles?" he demanded. "What beetles?" Then I told him I hadn't sprayed at all, and that did it. He went organic the following year.
USE ORGANIC MULCH
Mulch will control weeds and hold in soil moisture. I use leaf mold as mentioned above because it's handsome. Grass clippings are also good, as is shredded straw. The organic matter soon decays to further feed your soil. Don't use bark mulch because during its slow decay it can tie up nitrogen from your soil.
AVOID CHEMICAL HERBICIDES
These also seem like a miracle drug, but they drift in the lightest wind to ruin nearby plants, and can degrade your soil in ways just recently being discovered. They can kill amphibians and other wildlife. And worse, they can destroy the so-called mycorrhizal fungi which are vital to soil life. These microscopic fungi form on plant roots, and their tentacles — or hyphae — can literally extend for miles, bringing water and nutrients to the plant in drought times.
One more benefit of sustainable gardening lies in fostering wildlife. But then, if you do the above, you've already done that.
Peter Fossel is a longtime organic gardener and Massachusetts grower.