Fighting High Feral Rates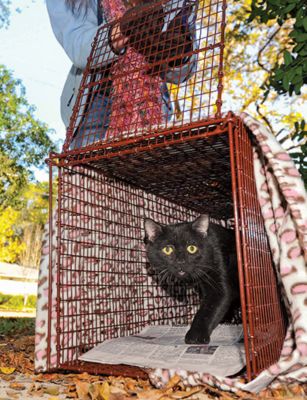 Once a feral cat is spayed or neutered, a quarter-inch of its left ear is tipped, or surgically removed, to indicate that the animal has been sterilized. Then it's released back to its territory.
Returning sterilized cats to the wild aims to lower population
By Hollie Deese
Photography by Chris Todd
When Carollyn Henry moved to Central Mississippi from South Florida a few years ago, she was shocked by the amount of feral cats around her new home — and upset that so many were being euthanized daily.
Those cats are among an estimated tens of millions of feral felines across the country at any given time. Ferals are not adoptable because they have had no human contact, so shelters rarely accept them, except to euthanize them.
Many communities continue to control these feral populations using methods, such as lethal elimination or relocation. These methods, however, have proven to be highly ineffective, according to the American Society for the Prevention of Cruelty to Animals (ASPCA), which works to prevent abuse.
Carollyn, an animal rescue volunteer, also rejects euthanization methods and, like the ASPCA, advocates an approach that's growing in popularity among animal rescue activists: Trap-Neuter-Return, or TNR. Feral cats are safely trapped, sterilized, generally vaccinated for rabies, and then released again. Indeed, the ASPCA endorses TNR as the only proven humane and effective method to manage feral cat colonies.
"It is very important to have all feral cats spayed/neutered because it is the only 100-percent effective way to prevent unwanted kittens," says Aimee Christian, ASPCA vice president of spay/neuter operations. "Feral cats are prolific reproducers."
Carollyn, who helps socialize kittens for adoption by fostering them, estimates she trapped, neutered, and released some 60 cats last year, which prevented hundreds of kittens from being born into feral colonies.
"TNR also helps the community's animal welfare resources by reducing the number of kittens that would end up in their shelters," says Jesse Oldham, ASPCA Senior Administrative Director of Community Outreach. "TNR creates more space for the cats and kittens who come to them from other avenues."
Trapping and euthanasia are far more costly than promoting stable, non-breeding colonies in the same location, the ASPCA says. It costs animal control facilities between $100 and $125 to pick up and euthanize a feral cat.
Sterilizing the same animal costs $35 to $55 at a typical low-cost clinic. It's also much less traumatic for a feral cat to be anesthetized, vaccinated, and spayed or neutered than it is to be housed in a shelter for the stray-hold period before being euthanized.
TNR BENEFITS
Destroying a feral cat colony, usually by eliminating or relocating, is not effective in the long term because it almost always leads to the "vacuum effect," in which new cats flock to the vacated area to take advantage of whatever food source attracted the original cats, such as abundant rodents or a dumpster, the ASPCA says. Also, survivors breed and their descendants become more cautious and even harder to catch.
Eradicating, or destroying, a colony, is only a temporary fix that sacrifices animals' lives unnecessarily, yet yields no long-lasting solution, the organization says.
It may seem illogical to control the feral cat population by returning spayed and neutered cats back to their old territory, but it works, according to the ASPCA and TNR advocates such as Carollyn.
Here's why:
"The vaccinated and sterilized cat is (generally) healthier and survives the fertile cat whose metabolism is geared to self-sacrifice for the benefit of reproduction, and who is also at a higher risk for injury, communicable diseases, and reproductive cancers," Carollyn says.
WANT TO HELP FERAL CATS?
The ASPCA offers webinars online to help people understand how the method works — particularly for those who have doubts about the method — and offers tips about starting a TNR program in your community. Go to ASPCA.org and type "feral webinar" in the search box.
If you'd like to help feral cats, but you're not interested in trapping, contact your local shelter for names of local TNR groups or individuals. Or visit Alley Cat Allies, the only national advocacy organization dedicated to the protection and humane treatment of cats, and a pioneer in TNR at alleycat.org/feralfriends.
Furthermore, says the ASPCA, by stabilizing the population, cats will naturally have more space, shelter and food, and fewer risks of disease. Neutering male cats also reduces the risk of injury and infection, because they no longer have a natural instinct to fight with other cats that intact males do.
TNR encourages survival of the fittest, Carollyn explains.
"By the sterilized cat competing for territory and resources, their very presence (largely) hinders the success or survival of the breeding cats, and thus again the colony growth rate is further reduced," Carollyn adds. "Try to do the same by (eliminating) the same numbers as fixes each month, and you will never get on top of the situation or reduce the overall numbers of cats, because for every cat you … remove, another cat is either born to take its place or moves in from next door."
TNR also yields other positive returns. Once a cat is sterilized, most of the negative behaviors associated with strays pretty much go away. For example, says the ASPCA, spaying also means that female cats do not go into heat, which attracts fewer tomcats to the area, thereby reducing fighting.
Before a cat is returned to its environment, its ears are tipped — ear-tipping is the surgical removal of the top-quarter inch of the left ear — as a universal sign to let others know that the free-roaming cat has been sterilized.
The bottom line? Do your part by spaying and neutering your own animals.
Hollie Deese is a Gallatin, TN, writer.