Winterize Your Coop | Winter 2013 Out Here Magazine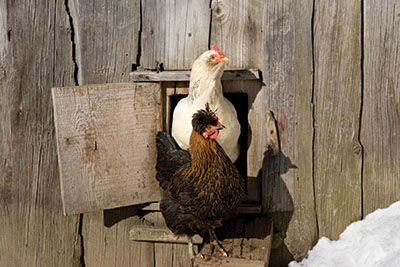 Safeguard your chickens' comb and wattle from frostbite this winter with a thick layer of petroleum jelly.
By Hollie Deese
Photography by iStock
Keep your chickens safe, warm, and healthy in freezing weather
Without fail, Andy Schneider — The Chicken Whisperer — begins to field emails and phone calls each fall from concerned chicken owners about how to keep their birds warm and safe in the coming winter.
They don't have to do too much, really, as long as their food, water, and shelter are properly maintained.
"Chickens have been around and domesticated for about 6,000 years," Schneider says. "We've only had electricity in America for 125 years and the chickens have been doing just fine. But that doesn't mean you don't have to be concerned about your birds."
It helps if you have picked the right breeds for your region to begin with. Cold-hardy breeds such as Ameraucanas, Blue Andalusian, Buckeye, and Buff Orpingtons have smaller combs and wattles, minimizing their chance for frostbite.
By protecting the combs and wattles with petroleum jelly or other protectant, any breed should be able to avoid frostbite during the winter.
COOP CONDITIONS
Bedding should be deep and changed often; if it gets wet, change it immediately.
Solve the problem of frostbite on legs and toes by providing the right size roost of 2-3 inches in diameter, Schneider says. It's wide enough to be comfortable but your chickens still can put their body down to cover their feet and legs, Schneider says.
Check for a draft while birds are roosting — blowing feathers are a telltale sign. But ventilation is key to good health, so don't go overboard when attempting to block the wind.
"So many people have this idea that in the wintertime they just completely make their coop airtight to keep the heat in, but ventilation is equally important in the winter as it is in the summer time," Schneider says.
You can achieve good air exchange without drafts by placing windows on opposite sides of the coop or above the roost, he says.
The consequences of creating an airtight coop can be dire. Moisture and humidity will build up and settle on the birds' wattles and combs, causing frostbite when the temperature drops. Also, an airtight coop won't allow ammonia buildup from their droppings to escape, which can cause health problems.
FOOD AND WATER
All animals should have access to clean, fresh water, so make sure your chickens' water doesn't freeze.
Change their water often, crack it as soon as it ices over, or get a water heater base to do the work for you.
"Some are not safe for molded plastic, so be sure you get the right one," Schneider advises.
And while Schneider typically doesn't use scratch for his birds, he makes an exception during the coldest months of the year.
"Right before they go to roost in the evening and only on the coldest nights, I will go out with a pie pan of some scratch grains and only give them enough so they all can completely consume it in a 10-minute time period," he says. "That creates some body heat as they work to digest and break down those grains."
ADDING HEAT
If food, water, and shelter are properly maintained, you don't need to add heat to the coop, but if you choose to install a heat lamp, anyway, take every precaution to prevent a fire, Schneider says.
"If you are going to use a heat lamp, clamp it to the rafter of the coop," Schneider says. "Duct tape it to the rafter, then use a C-clamp, and then chain it. Four things have to fail at the same time for you to have a fire."
Schneider's tongue-in-cheek recommendation may seem a little extreme, but his message is very simple: Make absolutely, positively sure that the heat lamp can't ignite the coop.
Hollie Deese is a Gallatin, Tenn., writer.