Featured Articles from the Winter 2013 Issue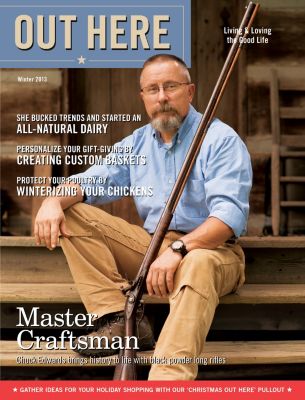 Out Here Magazine - Winter 2013
Master Craftsman
When Chuck Edwards runs his hands over the rifle that hangs above the workbench in his unique workshop, he's familiar with every angle in the stock, the feel of the weld in the trigger lock, and the details in the beautiful engraving.
He knows this gun thoroughly because he built it by hand.
Edwards, of Bloomfield, Mo., is among a handful of elite American craftsmen who make historic long rifles, the kind of black powder weapons used by the early colonists and by western mountain men who hunted and trapped into the 1800s.