Goodbye, City Life | Winter 2013 Out Here Magazine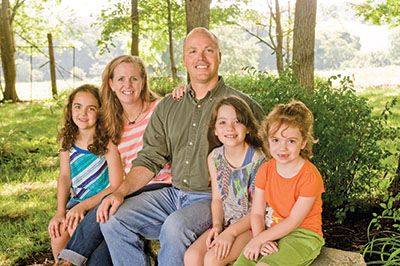 Kathy and Josh Gunn moved back to the country to raise their daughters, from left, Morgan, Anna, and Katie.
Couple trades fast-paced lifestyle for one of farming, family, and a solid future

By Noble Sprayberry
Photography by Martin Cherry
Two six-figure incomes, life in the trendiest of Atlanta neighborhoods, dinners in fantastic restaurants, and careers on the upswing. Kathy Gunn and her husband, Josh, gave it all up 10 years ago.
Their tradeoff? A plan to grow his family's cattle business in Springfield, Tenn., embracing a rural lifestyle while trading big-city bustle for family-focused days of hard work and togetherness.
"Last year, I think our entire salary was the amount of the last bonus at my corporate job in Atlanta," Kathy says. "But, it's been great."
And, country life means both Gunns spend more time with their three girls: Morgan, 10; Anna, 7; and Katie, 6.
"Your worst boss is usually yourself, and you may work yourself harder than you should," Josh says. "But as the business has matured, I don't feel I have to push as hard. We spend time together as much as we can, and we get the girls out on the farm."
For Kathy, the change meant relinquishing a childhood dream. She grew up in Knoxville, Tenn., and imagined a big-city job in a tall glass building. She became a director of business intelligence for a large consumer electronics company.
Meanwhile, Josh worked as a crop systems specialist for John Deere. When a farmer invested in a piece of equipment — often prices topped six figures — he would do on-site training.
They both traveled for work, often only seeing each other on weekends or by arranging to meet in scenic spots. "It was a jet-setting kind of life," she says.
When they learned Kathy was pregnant with their first child, they realized the cost of daycare could top $1,500 monthly. And then, there was the city life that seemed great for a couple but not as appealing for a family.
They left Atlanta for Springfield, TN.
Waiting was the Gunn family farm — Green Hill Farms, LLC — which has been in the family for more than 100 years, qualifying it as a Tennessee Century Farm. They came home to Josh's parents and grandmother, who lived on the farm, and a younger brother who lives just down the road.
EXPANDING OPERATIONS
"I never thought I'd be on a farm; it's crazy," she says. "But with a family on a farm, it's amazing. The kids get to go and work with their daddy and be on tractors. It's great."
When the couple moved home, Josh's family ran a calf-cow operation, which produced cows for market. But Josh and Kathy had bigger plans.
The cattle operations split into distinct businesses, one of which is a 1,000-acre custom grazing operation. "No pun intended, that's the cash cow, and that's what supports the business," Kathy says.
Custom grazing serves brokers who see cattle as an investment and who may not need to know the intricacies of keeping the animals healthy.
"They're just market players," Kathy says.
Young animals sold at market go to farms such as the Gunns' to gain weight and health before making the trip to large feedlots in places such as Kansas and Nebraska.
"Josh and his dad and the guys who work here, basically, know how to make sure they don't get sick," she says.
Another distinct business is Gourmet Pasture Beef, in which the Gunns sell grass-fed, home-raised beef by the whole, half, quarter, or by cut that is free of antibiotics and artificial hormones.
Gourmet Pasture Beef is a niche, contrasting with the grazing operation's place in the high-volume meat business. Find it at gourmetpasturebeef.com.
"It will take a long time to build (Gourmet Pasture Beef) up to where it can take over," she says. "That business is small, but growing. Last year, we sold more than $350,000 worth of steaks and ground beef, which is fine but the other business is a lot larger than that."
For a family with aspirations of thriving for a long time on the farm, identifying new markets and income sources can pad the blow if one market softens.
"You're in pretty good shape if you have all your eggs in one basket, and if that basket is a pretty good size, and if the eggs don't crack," Josh says. "But you're either going to win big, or you're going to lose big."
The complexity of the business impressed Kathy, who did not grow up on a farm.
"Farmers have to know just a little bit of everything, and you have to make it all work," she says. "The second part of that is you have to have someone who understands the business side of it and how to market it. I've got the business and marketing and sales. Josh has a degree in agriculture economics, so he has a good mix of both. We're a good team."
Now, the goal is to build an agriculture business large enough that their girls might find a future, even if their interests diverge from traditional farm work. Careers such as marketing, logistics, and veterinary medicine all have a place on a modern farm, Kathy says.
"I never thought I'd be on a farm; it's crazy," she says. "But with a family on a farm, it's amazing. The kids get to go and work with their daddy and be on tractors. It's great."
Georgia writer Noble Sprayberry is a frequent contributor to Out Here.